This is an archived article and the information in the article may be outdated. Please look at the time stamp on the story to see when it was last updated.
Scattered thunderstorms are a theme in the forecast for the next few days; the odds of a storm at any given point in North Alabama or Southern Middle Tennessee run about 40% to 50% on Thursday and Friday. Rainfall will vary from place to place, but the over-all picture looks good for about one inch on average. Some spots could get a lot more, and a few will get much less.
For Thursday afternoon, enough heat and humidity will be available to fire up more thunderstorms across the Tennessee Valley, with the best chance of rain occurring along a line stretching from Russellville to Cullman to Gadsden. A weak boundary is lurking along this line, and that boundary may be the forcing mechanism to fire up more thunderstorms. The majority of the storms should remain below severe limits; however, an isolated strong wind gust cannot be ruled out this afternoon.
With that said, any storm that develops is capable of producing locally heavy rainfall as well as frequent lightning strikes. With all of the heavy rain that has fallen in the first week of August, many areas are running 1-2 inches above average for the month, and any additional rain may cause flash flooding.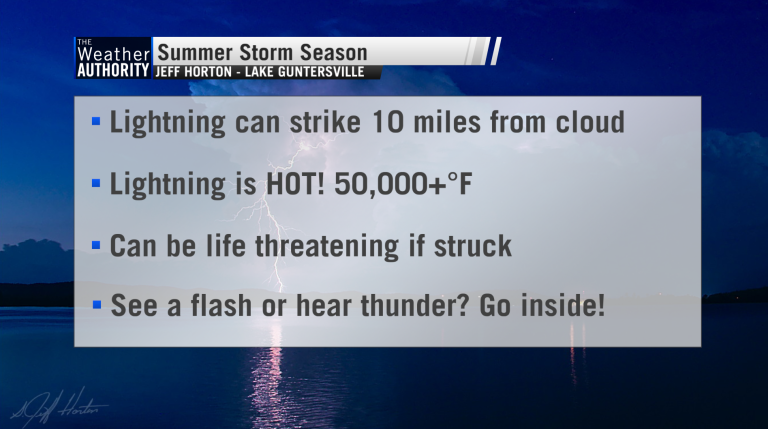 Lightning is always a concern for anyone outdoors, since a lightning strike can either produce life-long injuries, if not be deadly. Lightning can also damage electrical systems if it strikes a house, school or building.
Scattered storms keep rumbling: August is the beginning of the 'dry' season in Alabama and Tennessee. August, September and October are usually the driest consecutive months of the year.
This first week of August has been unusually wet in North Alabama. Some communities have had more than three inches of rain in the past seven days; some have had almost nothing. That's the way it works this time of year: uneven, locally-heavy rainfall under storms that don't cover the entire area.
We get more of that through the weekend! Expect occasional storms on Thursday, Friday and Saturday. In between the storms, it gets hot each day: highs in the upper 80s and a heat index 92ºF to 99ºF.
Weekend outlook: We still expect some scattered storms hanging around this weekend, but the most widespread (as widespread as it gets) rain happens before we get to Saturday and Sunday.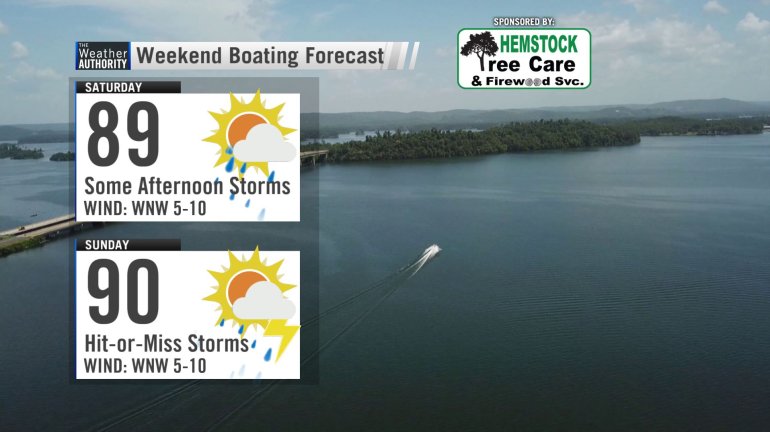 It will be hot and dry in between downpours this weekend; look for overnight lows (early morning) in the 70s and afternoon highs in the upper 80s and lower 90s. The heat index will be around 95ºF to 100ºF between noon and 5 PM both days.