This is an archived article and the information in the article may be outdated. Please look at the time stamp on the story to see when it was last updated.
Showers and a few thunderstorms last through the early morning hours; then it's cloudy, warm and humid ahead of another wave of rain and thunderstorms moving into Alabama and Southern Tennessee. Rain and storms are likely through the first half of Wednesday, but they'll start thinning out some for the rest of the week and the weekend.
Track summer storms with WHNT.com's Interactive Radar or swipe over to the radar feature on Live Alert 19!
Fewer storms, but not totally dry! Some days have better storm coverage than others. For an area the size of North Alabama, a 50% chance of rain (or higher) means you should expect rain either overhead or nearby on a given day. When that chance drops into the 20% to 30% range, you should understand that a storm is *possible* but not necessarily *likely* for your given location. In other words, don't change your plans; just be flexible.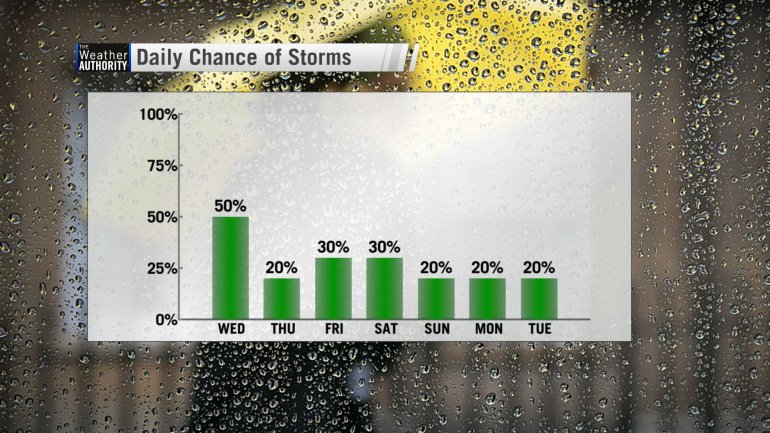 Weekend 'ridge' reduces storms, pumps up the heat! A summertime 'ridge' builds in over the region this weekend raising the temperature and reducing the number of hit-or-miss storms. This one may not be strong enough to keep them all away on Saturday and Sunday, but we are only seeing a 20% to 30% chance of any one spot getting 30 to 60 minutes' worth of rain.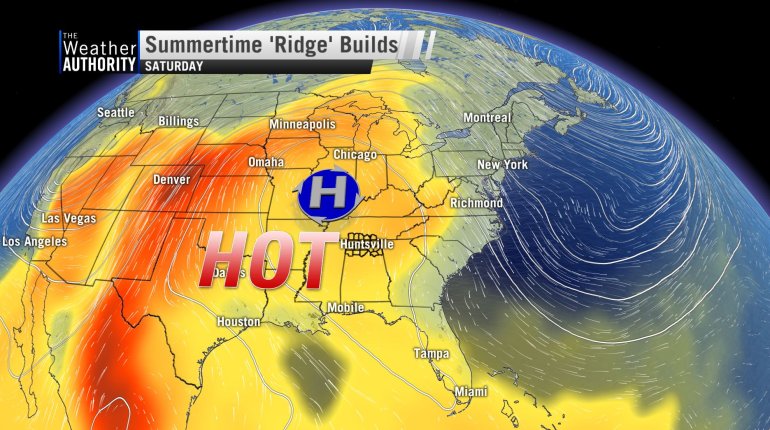 Temperatures rise into the lower and middle 90s on Saturday and Sunday; the 'feels like' temp (heat index) around 97ºF to 102ºF in the hottest part of the afternoon between noon and 4 PM.
Little change, typical summertime: We are closing in on one week to the official start of summer (summer solstice on June 21 at 5:07 AM CDT); but summertime weather has already been here for over a month! Summer is the season of little change around here. June and July usually feature daily afternoon thunderstorms, highs around 90ºF, and high humidity. It typically gets drier (and hotter) in August, and often we stay drier in September as well. Get used to what's going on out there. We're stuck with it for a while!
Need some specifics about the weekend or next week? They're always online at WHNT.com/Weather and in the "Daily Forecast" section on Live Alert 19!
-Jason
Connect with me!
Facebook: Jason Simpson's Fan Page
Twitter: @simpsonwhnt