This is an archived article and the information in the article may be outdated. Please look at the time stamp on the story to see when it was last updated.
The first wave of severe storms missed the Tennessee Valley to the south producing significant wind and tornado damage in South Mississippi, South and Central Alabama and southern Georgia Saturday morning.  Four people died in a single strong tornado in Hattiesburg, Mississippi early Saturday morning. The second severe wave missed the Valley too, aiming at Southern Georgia and Northern Florida where 11 deaths have been confirmed. One more wave will move through, and again it looks like Northern Alabama will see mainly heavy rain while the severe threat is focused to the south.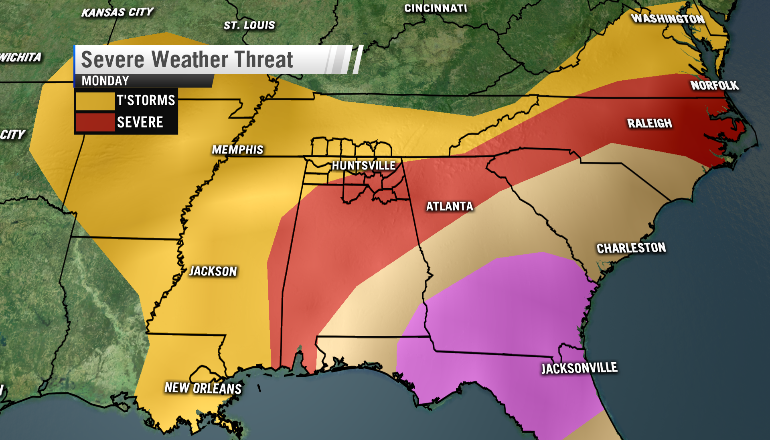 What you need to know through Sunday:
The next wave of showers moves into the Tennessee Valley after 2pm and will bring heavy showers and storms through the evening. Rain will become more isolated after midnight.
Widespread rain and storms will be most likely east of I-65.
The severe threat in Northern Alabama is very slim. The primary severe threat will be in Southern Georgia/Northern Florida.
Any strong storms that do develop could bring heavy downpours, gusty winds, and small hail.
So what should you do with this information?
Be alert, but don't be worried.  The primary risk of major severe weather is to our south; it's close, though, and that means you should pay attention in case there are any changes or shifts in the expected paths of storms. Track heavy storms here at home or miles away with WHNT.com's Interactive Radar or swipe over to the radar feature on Live Alert 19!
Here are some resources to keep you in the know. At this point, we don't believe you need to stay up all night watching it, but this will keep you informed if something changes:
How to program a NOAA Weather Radio
WHNT.com's Maps & Radar Page
Live Alert 19 and the WHNT News 19 App
Baron Saf-T-Net (phone/text)
Should a warning be required, we'll be here to keep you informed!
-Jason
Connect with me!
Facebook: Jason Simpson's Fan Page
Twitter: @simpsonwhnt