This is an archived article and the information in the article may be outdated. Please look at the time stamp on the story to see when it was last updated.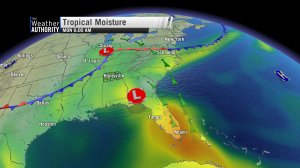 Saturday gave us a nice break from the constant storm chances, but that break is over. A pattern very similar to last week's will set up for the week ahead too. A weak disturbance in the Gulf will pull in more tropical air, keeping it steamy all week. This tropical air also feeds in more moisture to support daily afternoon storms chances.
The chance of scattered storms will slowly rise throughout the day Sunday, with the best chance of rain coming from 2PM-6PM. The coverage will be uneven, but any storm that develops likely brings a heavy downpour with it.
Beyond Sunday, the best days for more widespread rain and storms look like Monday and Tuesday. The system providing the moisture will weaken late in the week, which should thin out storm chances some Wednesday and Thursday.
Anytime we have a tropical airmass over us we anticipate heavy downpours with any storms that develop due to how much moisture is in the air. With that in mind, some stronger storms could also bring small hail and gusty winds. We'll be keeping a close eye on any developing storms.
You can keep track of scattered storms, see the radar, and get heavy rain and lightning alerts with Live Alert 19! You will see the lightning and hear the thunder before you get an alert, but the app can tell you if that strike was within 8 miles. If it is within 8 miles, you should move inside immediately.