This is an archived article and the information in the article may be outdated. Please look at the time stamp on the story to see when it was last updated.
Huntsville's high Wednesday hit 97ºF.
That's eight degrees above "average" for September 7th, but it's far short of the record high for the date: 108ºF in 1925 (also the hottest September temperature on record in Huntsville).
September is the time it starts to get cooler, though, right? Sometimes. Not always.
While we don't expect it to be that hot this week, we will be a shade off of 100ºF on Thursday and Friday.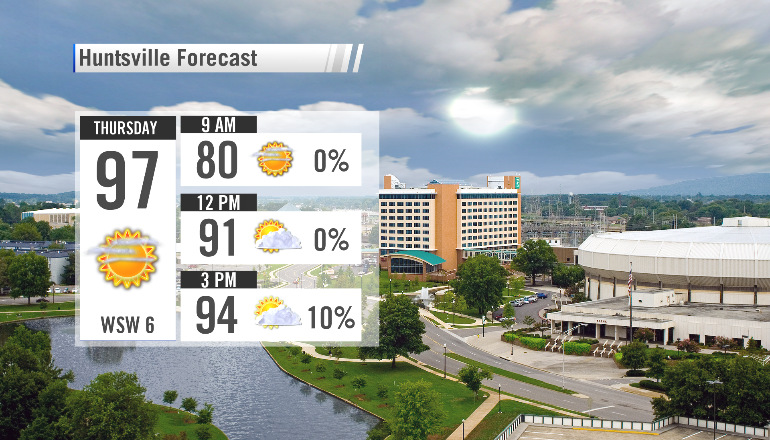 Thursday starts out comfortably mild: temperatures in the middle and upper 60s.  It gets hot quickly, though!  Expect a high near 97ºF in Huntsville (closer to 90ºF in the higher terrain).  Our one high school game Thursday evening at Milton Frank Stadium looks warm and dry: temperatures fall from near 90ºF in the pre-game to the low-80s in the fourth quarter.
Football Friday and the Weekend: Friday and Saturday still look very hot, but low humidity keeps the heat "in check."  In other words, what you see is what you get: highs in the middle to upper 90s won't feel any hotter because of the sultry summertime humidity.  On the flip side of that, the dry air means we see very little hope of a cooling, dust-settling shower or thunderstorm.
High school football stadiums will be blazing hot between 5 and 6 PM, but the sun sinks a little lower in the sky now than it did at the start of the season, and temperatures drop a little faster: mid-80s at kick-off, upper 70s by the fourth quarter.  An isolated shower is possible, but rain is far from "likely."
Get set for Football Friday on WHNT.com with player profiles, pep rallies, and of course, specific game forecasts!
The weekend still looks hot, but a cool front late Saturday evening brings with it a chance of some hit-or-miss showers and storms.  The best chance of rain is about 20-30% for a tenth of an inch of rain; The Shoals stands a better chance of getting rain than areas from Huntsville east and south toward Sand Mountain and Lookout Mountain.
More dry air blows in on Sunday, and temperatures drop to near-normal levels for about 36 hours before the heat cranks up again.
Need some specifics about the weekend or next week?  There's actually a chance we could be in the FIFTIES soon.  You can see all about that online at WHNT.com/Weather and in the "Daily Forecast" section on Live Alert 19!
-Jason
Connect with me!
Facebook: Jason Simpson's Fan Page
Twitter: @simpsonwhnt