This is an archived article and the information in the article may be outdated. Please look at the time stamp on the story to see when it was last updated.
An area of high pressure has become anchored just to the east of the Tennessee Valley, which will keep summer like weather around through Monday. That means you can expect weather very similar to what we experienced over the weekend again tomorrow.
That's good news for us wanting to view the eclipse Monday afternoon. The eclipse starts at 12pm in Huntsville, peaks at 1:30pm, and is over by 3pm. During that time skies should stay mostly clear.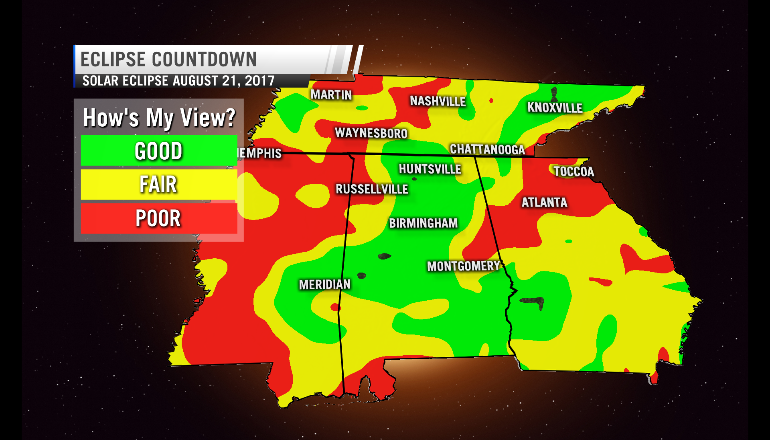 The heat and humidity will work together to develop a few fair-weather puffy cumulus clouds, plus a system near the Gulf of Mexico could send some thin high clouds our way. Overall, you might be looking up at scattered clouds, but for most communities here in the Valley they won't interfere with eclipse viewing.
Be ready for it to be hot outside, with high temperatures Monday reaching the low 90s. Although, as we approach the maximum eclipse, from 1pm-1:30pm, temperatures will fall a few degrees as we lose the sun's heating. That means the most comfortable part of the afternoon will likely be during the eclipse!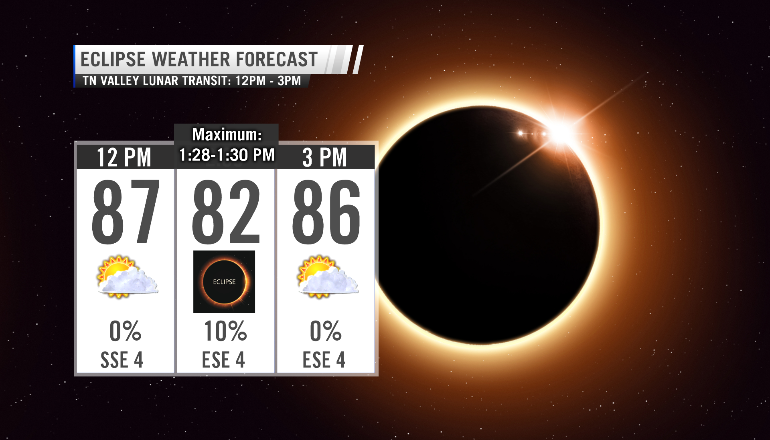 If you are traveling outside of the area for the eclipse, the clouds will be thicker the farther northwest you go. Cloudy skies look more likely up near central Nebraska and through Kansas City and central Missouri. The area from St. Louis, Missouri to Hopkinsville, Kentucky looks like fair viewing; the best view may end up just north of Downtown Nashville eastward to the Smokies. If you're traveling into the path of totality, remember to be sure you have enough fuel and that you're prepared with food in case you get stuck in traffic for hours!
Position yourself around showers and clouds with WHNT.com's Interactive Radar or swipe over to the radar feature on Live Alert 19!