This is an archived article and the information in the article may be outdated. Please look at the time stamp on the story to see when it was last updated.
Hard to believe I had only been at WHNT News 19 one year when one of the biggest outbreaks in U.S. history impacted us in the Tennessee Valley. I want to share my personal experience and what I learned as a meteorologist and a human being after that day.
We knew the day before that it would be a big day, but to think we would lose over 200 lives in the state of Alabama is unthinkable. Jerry Hayes and I did a web chat the night before to give viewers a chance to ask questions about the upcoming event. I worked the night shift that day, though I was in early in the morning as two waves of tornadoes hit the Tennessee Valley.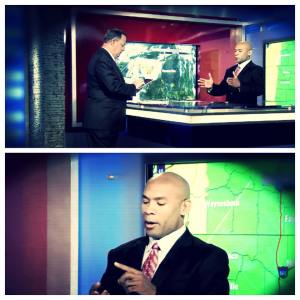 Jerry Hayes and Ben Smith doing a web chat on April 26, 2011, prior the tornado outbreak of April 27, 2011.
I have a true respect for all aspects of weather including forecasting/preparation, severe weather coverage/wall-to-wall. Forecasting weather is very challenging. Timing and intensity of severe weather storms is SOMETHING! What are the limits of what to say on TV the day before you know something bad is going to happen?  We had two waves that day. The first came in the wee hours with the second lasting from the early afternoon until around midnight. It was so difficult tracking tornadoes, large tornadoes, multiple tornadoes all at the same time. It was a challenge when you have multiple counties under tornado warnings. I just hope I did a good enough job and didn't leave anyone out. It was very difficult. To see the Phil Campbell/Harvest tornado unfold was heartbreaking. We knew it was bad, really bad. But  also knew we had a job to do and we had to focus at the task at hand. I wish you understood how difficult it truly was that day.  When you see the weather pattern knowing at 2pm, you would still have multiple tornadoes through 10pm-11pm that night was something you won't ever forget.  The National Weather Service in Huntsville issued 92 tornado warnings at that day. I can't describe how appreciative we all are of those men and women for all their hard work and dedication.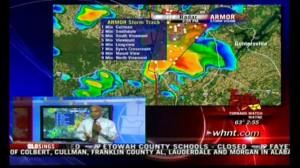 April 27, 2011, Cullman County tornado.
It was one thing to report it on TV, but to go out and put a face to everyone brought out my emotions. To say, "residents of Arab," but then go see "Betty in Arab" and look in her eyes is a completely different feeling.  To see the lady who survived under the Jet Pep in Arab was overwhelming. Reaching out in the community and meeting survivors was a blessing.  Unfortunately, there are stories we won't ever hear… those who didn't make it. Watching the names scroll by of lives lost was too much for me. I had to do a weather hit about a week later when I got to see the names and faces of those lives lost. I cried in the weather office knowing I was about to do a weather hit less than 5 minutes later. I had to get myself together.
What I learned? God is truly in control. Events like that really make you count your blessings and be thankful for each and every day. We are blessed. Though we might have bad days here and there, we are blessed. We need to be thankful. I learned not to take anything for granted, because it can be taken away at any time. We lost moms, dads, grandparents, sons, and daughters that day. We lost best friends as well. Appreciate what you have, enjoy every day, and try not to worry!
I just want to thank everyone for their support of WHNT News 19 and tuning in and following our coverage that day and every day. I want you to know I appreciate everyone. We love our viewers very much!