This is an archived article and the information in the article may be outdated. Please look at the time stamp on the story to see when it was last updated.
The beginning of March is the beginning of "meteorological spring:" the time of year when the weather starts behaving more like Spring even though we have not made it to the Vernal Equinox yet.  The equinox occurs at 11:30 PM CDT on Saturday, March 19th. the beginning of astronomical spring: the moment that the Sun's rays are exactly 90º (perpendicular to) the Equator.
Equinox literally means "equal nights," but March 16th is the closest the Tennessee Valley comes to 12 hours of daylight and 12 hours of darkness.  Sunrise that day is 6:55 AM and sunset at 6:55 PM.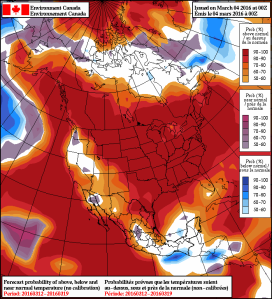 Longer-range guidance suggests that there is long-lasting warmer weather ahead once we come out of the most recent cold snap.  Daytimes highs average 62-65ºF next week, and we should be every bit that warm plus about 5 to 10 degrees.
The warmest weather of next week comes between Tuesday and Thursday: highs 70-75ºF with very little chance of rain.
A major storm system developing over Texas from Sunday into Monday spreads extremely heavy rain and a threat of some strong thunderstorms from the Lone Star State northeast toward Illinois and Indiana.  The Storm Prediction Center is already monitoring a broad area in the Plains on Monday and in Texas, Louisiana and Arkansas on Tuesday.
Outside of the severe weather threat, look at the rainfall potential west of us through next Friday!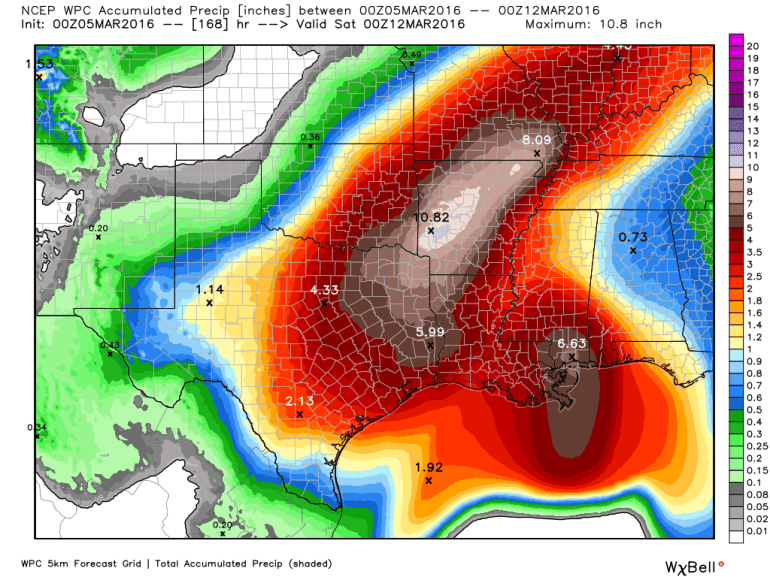 We believe the rain and storm threat shifts into Alabama and Tennessee between Friday and Saturday; however, there is no skill in predicting any risk of severe weather that far in advance.
Could there be another chance of some snow? History tells us that snow has occurred in North Alabama as late as early May, but the kind of pattern evolving for the rest of March looks more like March 2012 (unusually warm) than March 2014 and 2015 (unusually cold).
So, the weather is looking active and interesting in coming weeks. We'll stay on top of it for you!
-Jason
Connect with me!
Facebook: Jason Simpson's Fan Page
Twitter: @simpsonwhnt