This is an archived article and the information in the article may be outdated. Please look at the time stamp on the story to see when it was last updated.
To say it's been warm this Fall is an understatement; the average temperature since September 1st is 70.1ºF.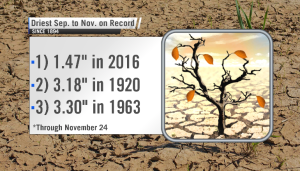 That's the warmest on record in Huntsville, and it's also the driest September to November on record. Slightly cooler air slips in tonight for Friday and the weekend, but we have another push of very warm weather coming ahead of a major Fall storm system next week.
In the short-term, the weather looks fine for Black Friday shopping, the playoffs, and spending some time outdoors. You may need a jacket at times over the weekend (especially in the higher elevations), but it's not getting "cold" again for a while: most likely the end of next week.
Rain is really coming next week
It's been a while since we've had a headline like that, but it's finally about to happen.  There is a legitimate rain-maker coming in next week.  The timing is still questionable/changeable, but there is a  good chance that we get soaked between Monday night and Wednesday afternoon: some may get it two or three times.
Temperatures surge toward the lower 70s on a gusty south wind Monday; rain and some heavy thunderstorms in the region should keep temperatures down some Tuesday, but the uncertainty of the precise timing means you should expect some adjustments in this time frame.
Is severe weather possible?  It's not impossible, but as of now, this does not look like a major threat for the Tennessee Valley.  That is also changeable, so we'll keep an eye on it.  Never turn your back on a dynamic storm system in November; it doesn't take much to go from a windy, rainy day to something much worse.
Cold December Weather Ahead?
It's been so warm this season that "Arctic" air doesn't even seem like a thing anymore.  While North America has been bathed in warmth this Fall, Siberia has been frigid and unusually snowy.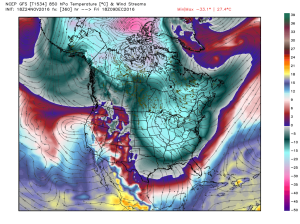 In the next two weeks, a chunk of that Siberian air is poised to come over the North Pole and rush south into the United States.
It's too far out for much detail, but there's a high probability that it turns significantly colder for most of the month of December.  Air like this can push low temperatures into the single digits and teens while daytime highs struggle to rise above freezing.
It's also worth nothing that when patterns like this develop we can go from frigid weather to a severe weather threat in a matter of days because of the chaos in the weather pattern this far south.
Interesting times lie just ahead.
Looking for specifics about the weekend or next week? They're always online at WHNT.com/Weather and in the "Daily Forecast" section on Live Alert 19!
-Jason
Connect with me!
Facebook: Jason Simpson's Fan Page
Twitter: @simpsonwhnt