This is an archived article and the information in the article may be outdated. Please look at the time stamp on the story to see when it was last updated.
According to the National Weather Service, a total of 62 tornadoes touched down in the state of Alabama alone on April 27, 2011, with nearly two thirds of them occurring within north Alabama.
Marshall County alone was impacted by over a dozen tornadoes — 15 to be exact. Limestone and Madison counties were hit by a combined 13 tornadoes. Seven tornadoes hit DeKalb County, including a long-track EF-5 that directly hit the city of Rainsville, packing wind gusts higher than 200 miles per hour.
The tornado outbreak began early that morning as a squall line produced numerous strong tornadoes in the state. A few more rounds moved through in the afternoon and evening, through early the following morning, prompting as many as 92 different tornado warnings in north Alabama alone.
Across the state, as many as 252 people died as a direct result of the tornadoes. In north Alabama, 100 people perished.
A tornado outbreak of this magnitude is relatively rare, but it is important to know that April is the peak of the spring tornado season in Alabama. Records show that nearly 200 tornadoes have touched down here in the Valley in the month of April alone, and the threat doesn't go away in the summer, fall and winter seasons.
It is easy to be emotionally paralyzed by fear because of what happened seven years ago, which is why a little bit of action now may help you in the future — this information will be useful the next time severe weather is in the forecast.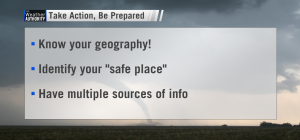 Know your geography: Be sure to know the name of your county and community as well as nearby counties and cities. A warned storm in a nearby area may move into where you live, and that extra amount of awareness will give you and your family time to get to your safe place.

Know the safest place at your home, work or school. Know how long it takes to get to that "safe place" so that you can plan accordingly. If live in a mobile home and have to travel to a community storm shelter, know who is responsible for opening the shelter as well as the travel time to get there from your home.

Have multiple sources of information — don't rely on just one source. During 2011, cell phone towers went down, and it's a situation that can happen again today. During 2016, weather radio transmitters went down during tornadic weather, which is why television and mobile weather apps were helpful. This is why multiple sources like weather radios, mobile apps as well as the TV are so important. You can download our LiveAlert 19 app, which will alert you when a watch or warning have been issued for your location. For information on programming a weather radio, be sure to visit our resources here. 
Our goal here at WHNT News 19 is to help prepare you and not to scare you. However, when weather does become a serious threat, it is our mission to responsibly relay to you the threat associated with the weather so that you can plan accordingly. But you and your family will need a plan, and the best time to develop that plan is while the weather is quiet.
As we look back at April 27, 2011, it's important to acknowledge the feelings and emotions associated from the tragic tornado outbreak, but it is equally important to not let the fear and anxiety prevent us from being ready for the "next one." Take a few moments to arm yourself and your family with the information you need to be safe during severe weather.