This is an archived article and the information in the article may be outdated. Please look at the time stamp on the story to see when it was last updated.
A few isolated showers and thunderstorms continue through the evening hours; they fade away after sunset, and the sky becomes mostly clear tonight. Expect lows in the mid-60s: more uncomfortable and humid than we've been lately.
Track showers and storms with WHNT.com's Interactive Radar or swipe over to the radar feature on Live Alert 19!
The calendar still shows 42 days until the 'official' start of Summer, but summer-like weather is already here. Thursday's afternoon highs rose into the upper 80s and lower 90s for the second-straight day, and it gets even hotter from Friday into the weekend. That's when the heat index becomes a factor again: feeling like it's hotter than it really is because of the humidity.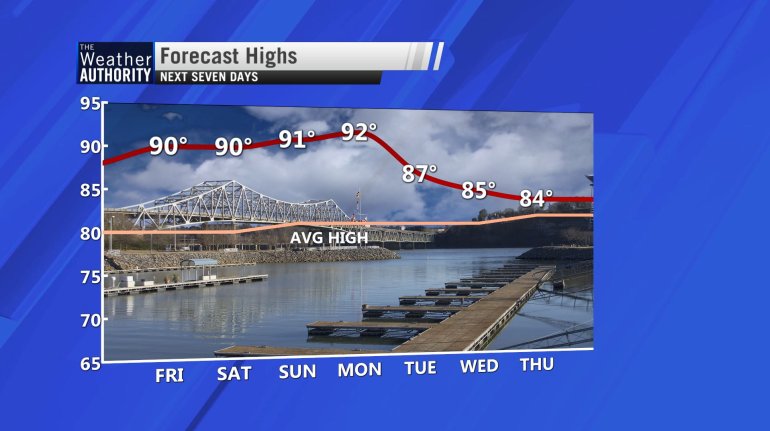 Friday through Mother's Day: 'Feels like' temperatures will rise to the lower and middle 90s on Friday, Saturday, Sunday and Monday with little-to-no good chance of any significant, widespread showers or storms.
In fact, Saturday and Sunday look completely rain-free over North & Central Alabama as well as most of Middle Tennessee. The biggest weather challenge this weekend will be trying to keep cool in the summer-like heat! Expect highs around 90ºF Saturday and 91ºF on Sunday with a light southwest breeze both days.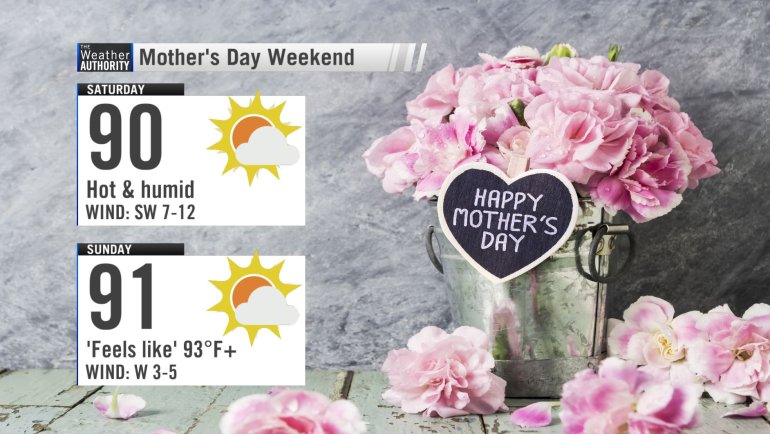 A rainy pattern next week? It's been a while since we've had a widespread soaking over North Alabama, so we are getting to the point where we do need some rain! Eleven of the past thirteen days have been bone dry, and the meager rainfall we got on the other two days (0.09" and 0.16" at Huntsville International) has not been all that helpful.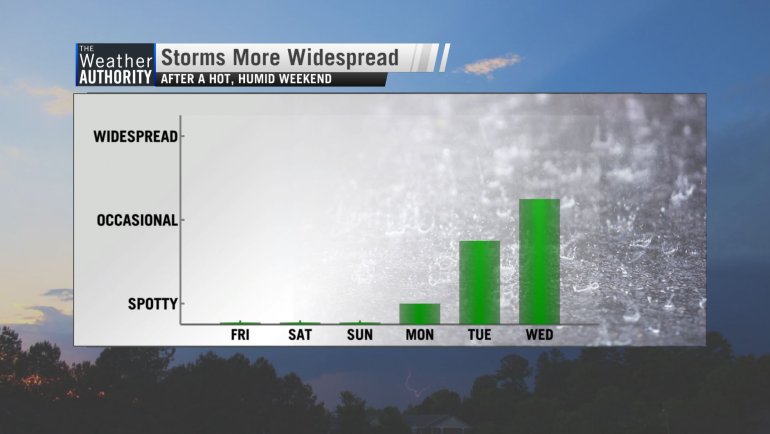 The prospects of rain look better next week, but we hesitate to say it's going to be 'rainy.' That insinuates that it will rain, and rain, and rain, and rain on a daily basis.
This looks more like a good covering of widely scattered showers and thunderstorms each day starting next Tuesday lasting through next weekend. In that time, communities that get multiple downpours could see around 1-2" of rain or more; some may be left wanting with precious little falling in a few other spots. Scattered storms this time of year do not bring evenly-spread rainfall. Instead, they dump a lot of rain in small areas, collapse, and new downpours form around them.
So when you see a 40% to 60% chance of rain on a given day (like Tuesday, Wednesday, Thursday, Friday, Saturday and Sunday), expect that there will be storms nearby and that there's a pretty good chance one could dump a brief downpour where you are!
Need some specifics about the weekend or next week? They're always online at WHNT.com/Weather and in the "Daily Forecast" section on Live Alert 19!
-Jason
Connect with me!
Facebook: Jason Simpson's Fan Page
Twitter: @simpsonwhnt