This is an archived article and the information in the article may be outdated. Please look at the time stamp on the story to see when it was last updated.
Check out the wind chill values below, which occurred in the Tennessee Valley at 7 a.m. on Saturday, February 13.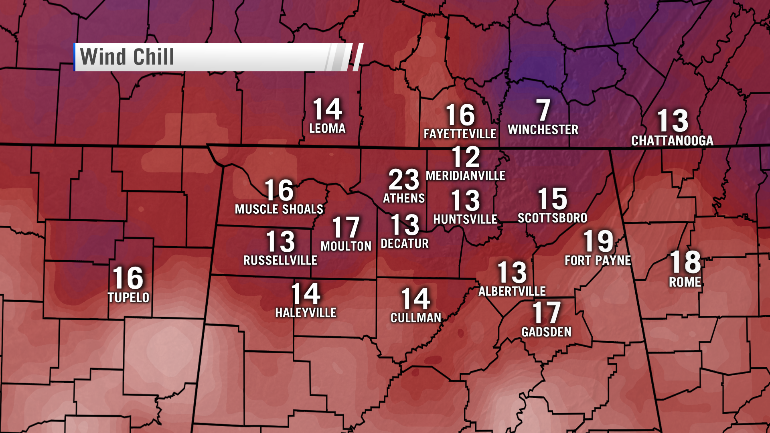 Much of the Valley woke up with wind chills in the teens, and Winchester bottomed out to a value of 7 degrees!
MORE: How to stay warm when it is brutally cold outside)
However, this is warm compared to Minnesota!
It's a cold morning. #arcticblast #mnwx #wiwx pic.twitter.com/lPdeTCccEn

— NWS Duluth (@NWSduluth) February 13, 2016
Now that is cold! The official NWS weather observer at Embarrass, MN reported a low temperature of -36F this morning. #mnwx #arcticair #brrr

— NWS Duluth (@NWSduluth) February 13, 2016
High pressure parked over Minnesota is responsible for pushing Arctic air south into the Tennessee Valley. Thankfully, the airmass is able to moderate a little bit, and wind chills here are above zero. Still, cold is cold, and you will need to bundle up this weekend! The good news is that a warm up is in the forecast for the second half of the week – check out the forecast discussion to see when we will be able to hang up the heavy jackets.