This is an archived article and the information in the article may be outdated. Please look at the time stamp on the story to see when it was last updated.
It has been hot and dry for a while here in the Tennessee Valley. In fact, June 2nd marked the 18th day without measurable rainfall being recorded at Huntsville International.
Our rain chances stay limited up until the last half of the week. A more 'unsettled' weather pattern will set up Wednesday and last all the way into our upcoming weekend. That's because the jet stream – which typically 'carries' atmospheric disturbances – will settle near the Tennessee Valley for a few days. Here's how that breaks down for us: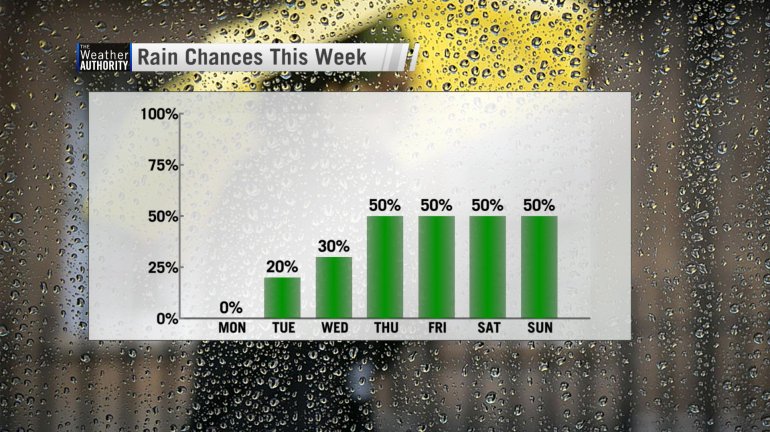 Some isolated storms will be possible late in the day Tuesday, but it's likely that we won't have enough moisture for more than a few hit-or-miss storms. On Wednesday is when we see a better flow of moisture start coming in from the Gulf of Mexico, which will coincide with a slightly better chance of storms bubbling up Wednesday afternoon and evening. Finally, our best chance of rain and storms of the week likely comes around on Thursday and Friday. We'll keep some lingering storm chances through the weekend too, while we're still under this more unsettled weather pattern.
At this point, the risk of severe weather is slim. We still won't be in line for the best dynamics or upper level energy with any disturbances that will move through this week. It will bear watching though, as we will have plenty of moisture and a good amount of heat still over us.
All of this rain could add up well for those of us feeling too dry from the rainless end of May! Rainfall totals will range from 1.00″ up to 2.00″ for communities that get particularly heavy downpours.  Most of that rain likely falls from Thursday through Friday.