This is an archived article and the information in the article may be outdated. Please look at the time stamp on the story to see when it was last updated.
Huntsville, Ala. – As everyone gets ready for the 4th of July, the main question remains are we going to be dodging any rain. There is a chance of rain for both tonight and tomorrow across the Tennessee Valley. The good thing is there will be several dry spots over the next few days. Let's hope rain stays away from downtown Huntsville, McFarland Park, and all fireworks displays. For a list of fireworks near you, click here.
I'd like to show you some of the computer models detailing hour by hour on the 4th of July. I'm not going to do that because there is no guarantee it's going to rain at any one location at that time. Some neighborhoods get soaked, while others say dry both today and tomorrow. Just in case you get caught under a storm, Live Alert 19 is a great app to have. It can alert you when rain is close by and lightning alerts to get out of the pool. It can also alert you when watches and warnings are issued. Click here to get Live Alert 19.
Here is a look at the 4th of July forecast. Rain chances will likely wind down closer to 8pm-9pm.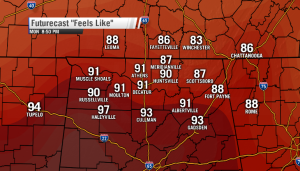 With dewpoints in the 70s, the heat index will be a major factor both today and on the 4th. Stay hydrated as your feels like temperature will be in the lower middle 90s all afternoon and into first part of the evening. The muggy air will likely hang around most of the week as lows stay in the lower 70s through the weekend.