This is an archived article and the information in the article may be outdated. Please look at the time stamp on the story to see when it was last updated.
Tropical activity in the Atlantic is on the rise. We now have three hurricanes in the Atlantic Basin: Irma over the Caribbean, Katia in the Gulf of Mexico, and Jose farther out to sea.
Irma: Irma is a Category 5 hurricane with sustained winds of 175 mph as of Thursday afternoon. Irma is moving just to the north of the Greater Antilles, currently bringing torrential rain and damaging winds to the Turks and Caicos and Hispaniola.
Irma is expected to maintain the strength of a Category 4 or 5 storm as it approaches Florida by Sunday. From there the track is less certain.
The most likely track will take Irma up the east coast of Florida Sunday through Monday. There is a chance though that Irma could take a path closer to the Carolinas. We'll be watching the storm's movement closely.
Irma is expected to have little, if any, impact on the Tennessee Valley.
Katia: Katia is a hurricane in the Gulf of Mexico after strengthening quickly Wednesday. Katia became a tropical depression Tuesday afternoon, then a tropical storm Wednesday morning, and then a hurricane on Wednesday afternoon.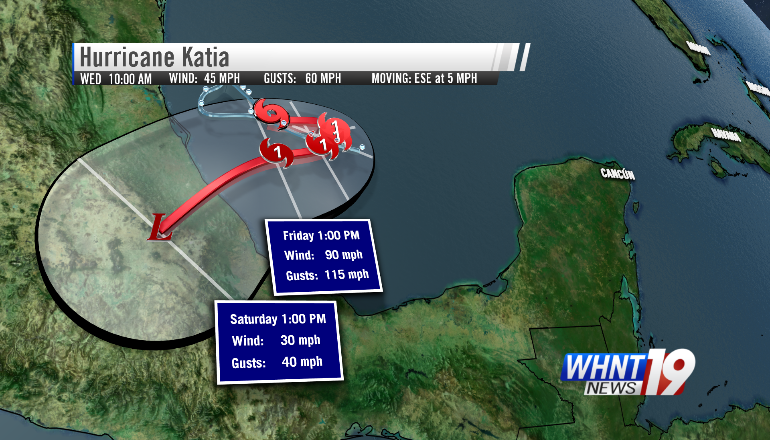 Katia is not expected to pose any kind of threat to the US. The storm will churn over the Bay of Campeche for the next couple of days before making landfall over Mexico.
Jose: Hurricane Jose originally developed off the Cape Verde Islands earlier this week and has been strengthening since. Jose became a major hurricane Thursday with maximum sustained wind speeds of 120 mph; this makes Jose the third major hurricane of the 2017 Atlantic Hurricane Season. Jose is forecast to move near the northern Leeward Islands this weekend before turning north towards Bermuda.             .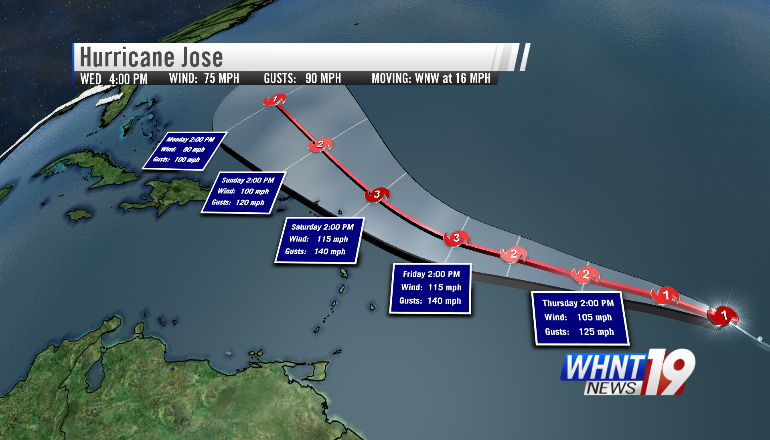 While Jose's track looks similar to that of Irma's, Jose will likely stay farther north. It is still too early to say if the storm will move over any of the Antilles Islands or if the storm could impact the US East Coast. We'll keep a close eye on Jose as it continues to churn in the Atlantic.