This is an archived article and the information in the article may be outdated. Please look at the time stamp on the story to see when it was last updated.
Donna Prickett sent me this photo today:
Shot this over Lake Guntersville this afternoon.  Ramona Edwards told me I should ask you if it's " a little rainbow, maybe."
So what is it?
Merriam-Webster's Dictionary defines a rainbow as an "arc." This is clearly not an arc, so can we call it a rainbow?
Based on the strict definition, no, we can't.
The go-to resource for things like this is Atmospheric Optics, and this is what I found:
"Sometimes colored patches appear in the sky that are unlike 'ordinary' rainbows in shape."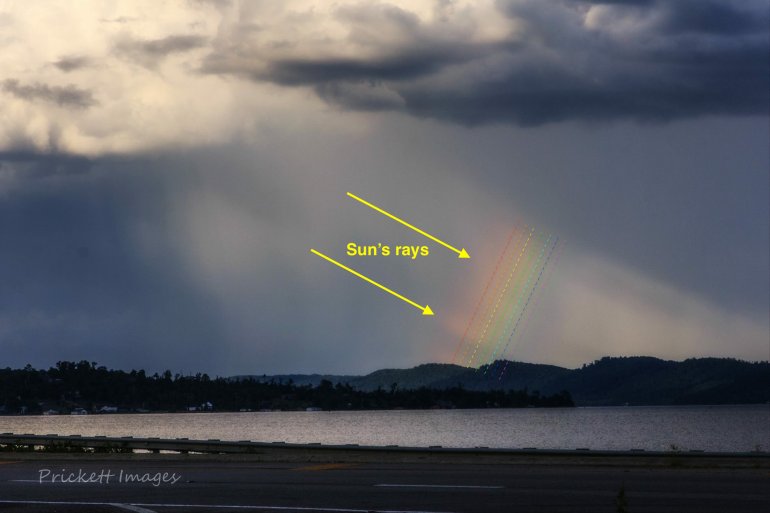 The patch of color or "colored sky" happens when the sun's light is refracted in those raindrops falling over Lake Guntersville.
If that rain had been nearer Donna's location, the full rainbow (normal bright arc) would have been visible.  Since it was far away, the colors essentially got smeared across the raindrops falling at a slant.
The raindrops falling at just the right angle refracted the colors of the visible light spectrum over a broader area.
At roughly the same time Donna took this photo, we got another one of a beautiful "normal" rainbow reflecting in the waters of the lake.
It's all about perspective!
Is your perspective different on what this should be called?  Feel free to chime in.
You can also send us photos like this when you want to share what the Weather Where You Live is like!  Upload them using Live Alert 19, or submit here on WHNT.com!
-Jason
Connect with me!
Facebook: Jason Simpson's Fan Page
Twitter: @simpsonwhnt