This is an archived article and the information in the article may be outdated. Please look at the time stamp on the story to see when it was last updated.
The National Weather Service in Huntsville has issued a Tropical Storm Watch for Cullman County. The watch will be in effect until further notice as Hurricane Nate is expected to move through Alabama as a Tropical Storm Sunday.
Nate became a hurricane late Friday night and is now moving into the open waters of the Gulf of Mexico as a Category 1 hurricane. Since Nate will spend Saturday over warm waters, the storm could strengthen into a Category 2 hurricane before making landfall late Saturday night into early Sunday morning.
The Gulf coast will start feeling the impacts of Nate by Saturday afternoon. If you or a family member is at the beach start listening to local radio and TV stations for the latest information, including potential evacuation orders.
Expected Impacts to the Tennessee Valley
Rain: A few scattered showers and storms are possible Saturday afternoon and evening across Alabama. Rain will remain scattered throughout Saturday evening and Sunday morning. More widespread rain from Nate will arrive Sunday afternoon.
Heavy rainfall is likely from Midday Sunday through Sunday evening. 3-4 inches of rain could fall by Monday morning, so be aware of potential flooding. A Flash Flood Watch will be in effect from 4pm Sunday through 12pm Monday.
Winds: The time frame for the highest winds will be the same as the heaviest rain: 12pm Sunday-12am Monday.
The highest winds will be on the east side of the storm system. Areas east of I-65 could see sustained winds up to 25-30 mph. Wind gusts could reach as high as 40-50 mph.
Severe threat: The chance for severe storms, including tornadoes, will be focused in southern Alabama. There is a slim risk of an isolated severe storm Sunday afternoon and evening as far north as the Tennessee Valley though.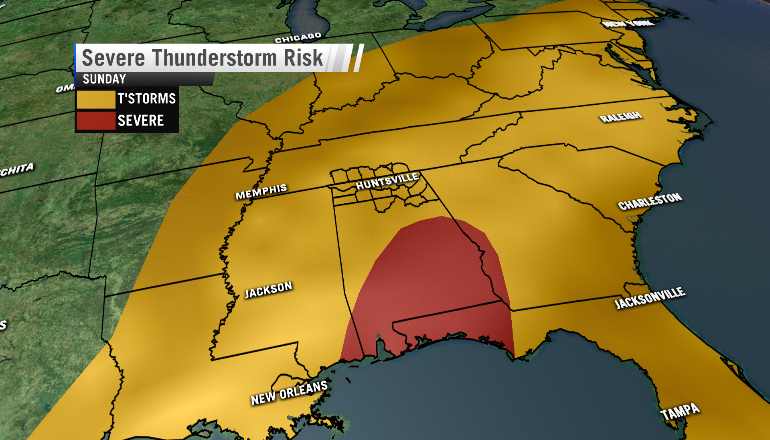 Again, communities east of I-65 will be more likely to see strong to severe storms.
Track Nate and the inland impacts with WHNT.com's Interactive Radar or swipe over to the radar feature on Live Alert 19!
How to program a NOAA Weather Radio
WHNT.com's Maps & Radar Page
Live Alert 19 and the WHNT News 19 App
Baron Saf-T-Net (phone/text)