This is an archived article and the information in the article may be outdated. Please look at the time stamp on the story to see when it was last updated.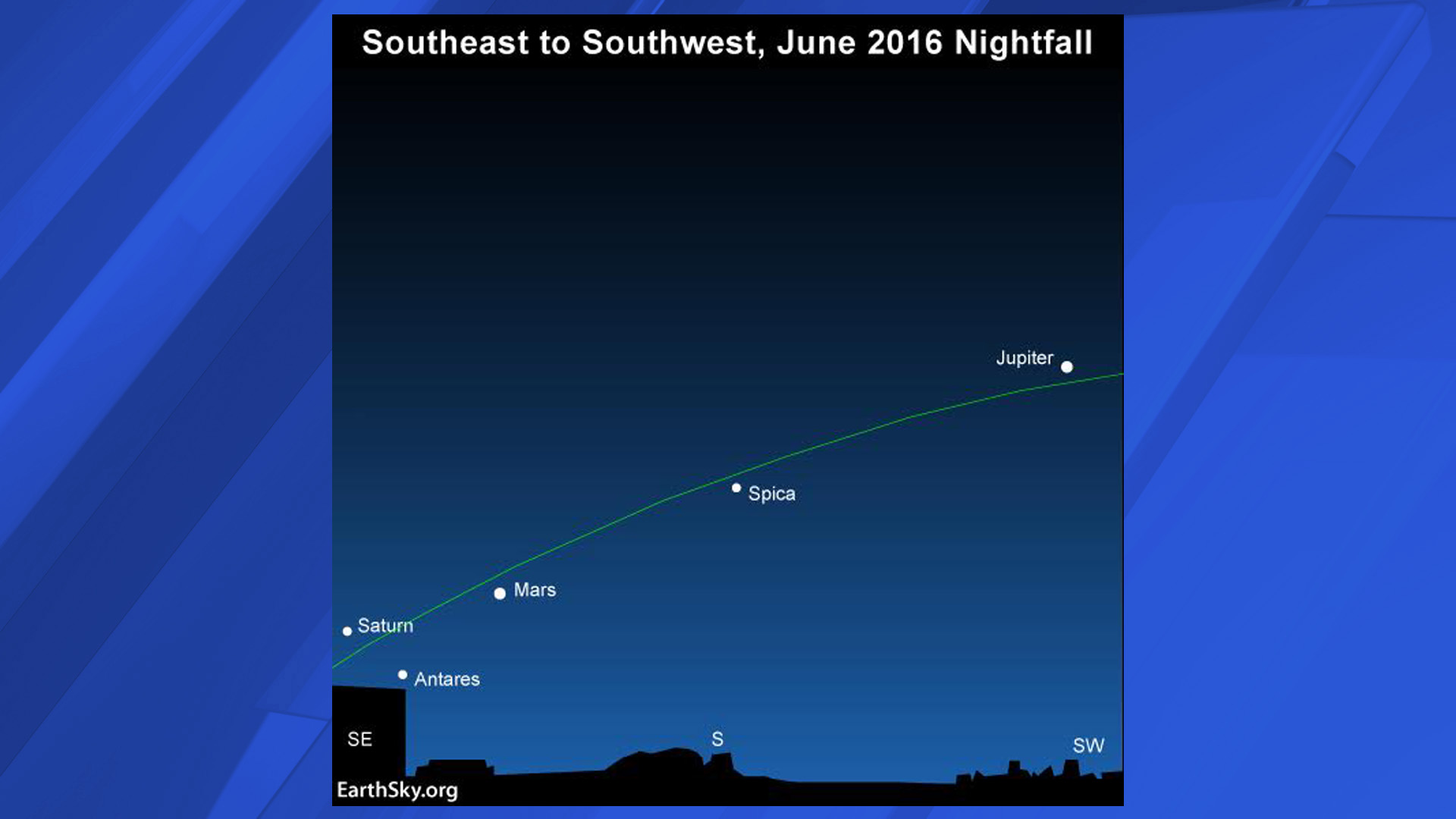 You can distinguish Mars from Saturn because Mars is, by far, the more brilliant of these two bright worlds. Mars ranks as the second-brightest star-like object to light up the evening sky, after Jupiter.
Although you could possibly confuse the star Antares for Saturn, you can differentiate Saturn from Antares by color. Antares displays a ruddy hue while Saturn appears golden.
Best of all, Mars was closest to Earth for the year on May 30, and Saturn will be at its closest on June 3, so these two worlds will be especially bright in the June evening sky.
The other two bright planets – Mercury and Venus – are nowhere to be found in the June 2016 evening sky. If you live in the Southern Hemisphere, you can view Mercury in the east before morning dawn for the next several weeks. In the Northern Hemisphere, Mercury sits low in the glare of twilight and is hard to spot in the June morning sky.
In an ironic twist, Venus – the brightest planet of them all – is the only bright planet (Mercury, Venus, Mars, Jupiter and Saturn) that can't be seen at all this month. Venus hides in the glare of the sun all month long. Its superior conjunction – when it's on the far side of the sun from Earth for this orbit – occurs on June 6, 2016. Venus will actually pass directly behind the sun during this particular superior conjunction, exactly four years after Venus swung directly in front of the sun's disk at inferior conjunction on June 6, 2012 – and then 8 years before that, swung directly in front of the sun on June 8, 2004.
This article originally appeared on Earthsky.org.