This is an archived article and the information in the article may be outdated. Please look at the time stamp on the story to see when it was last updated.
If you're listening to the forecast and you hear that severe weather is possible, there are a few simple things you can do ahead of time that can potentially save your life.
The first thing to do is to make sure you are receiving severe weather alerts from multiple sources, essentially setting up redundancies for your office as well as your home. Make sure you have at least two (if not all) of the following:
(Click here for NOAA Weather Radio Transmitter information for Alabama; click here for NOAA Weather Radio Transmitter information for Tennessee)
Why should you have multiple ways to receive severe weather information?
It's incredibly important to develop redundancies when receiving weather alerts. For example, what would you do if the power goes out, and you cannot go online or watch TV, and your phone is just about out of juice? That's where a NOAA weather radio can help you, especially if it is self-powered (ie, batteries or a hand crank).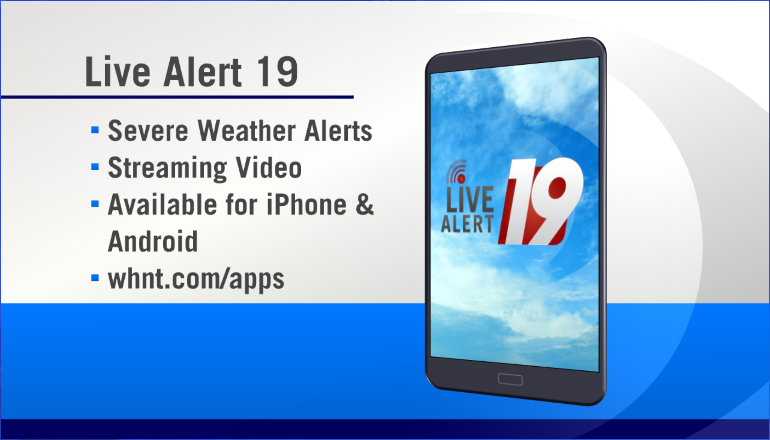 However, there are times when even the NOAA weather radio transmitters go down or are not in operation. That's when you want to use an additional source of information — like a mobile app — that can keep you updated as to what is happening.
Our Live Alert 19 app provides alerts for locally heavy precipitation as well as the presence of lightning, in addition to severe weather alerts like watches and warnings. It can also be programmed for different locations as well as keeping you alert to changing weather conditions when you are on the road. It is free for Apple as well as Android devices.
Remember the differences between a WATCH versus a WARNING
With regards to severe thunderstorms, flooding, and tornadoes, the information concerning a watch versus warning are similar:
A WATCH means atmospheric conditions are favorable for the weather hazard to occur, but it has not happened yet. A WATCH can last for several hours to a few days. During a WATCH, it is important to finalize any plans regarding traveling to or preparing to hunker down in a shelter or safe place. This is the time to gather emergency kit items and other belongings in anticipation for the hazardous weather.
A WARNING means that the hazardous weather is occurring or is about to occur. A WARNING can last for as long as half an hour (ie, severe thunderstorms or tornadoes) to several hours (ie, flash flooding). During a WARNING, it is incredibly important to get to safety as soon as possible; your "safe place" will vary depending on the hazard (click here for information on how to stay safe during a severe thunderstorm, flooding, or tornadoes).
By knowing what to do and acting as quickly as possible at the right time, you greatly increase you and your family's chances of surviving severe weather events in the Tennessee Valley.