This is an archived article and the information in the article may be outdated. Please look at the time stamp on the story to see when it was last updated.
Coming up this week, the Tennessee Valley is bracing for the hottest temperatures so far this season. Although thermometers at Huntsville International Airport reached 99 degrees three times this year, temperatures haven't hit the big 1-0-0 since August 5, 2015.
I think we'll do it this week! Check out the forecast trend for the next five days. In the immortal words of socialite Paris Hilton: "That's hot!"
But it got me wondering: What are the hottest temperatures that have EVER been recorded here in the region?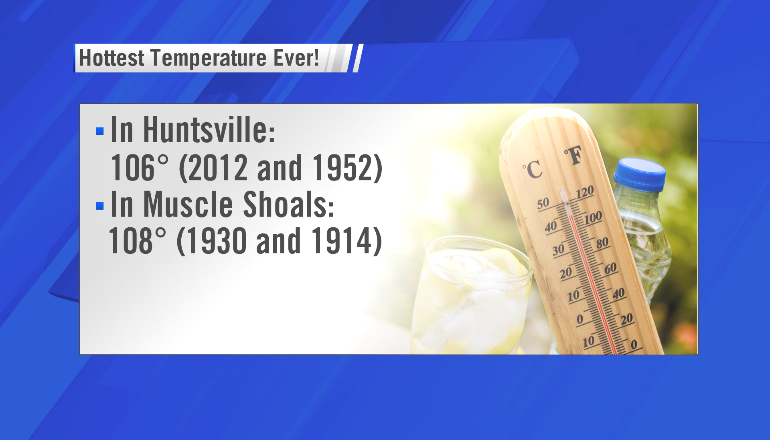 Much of the south endured a major heat wave in late June 2012, which is the last time Huntsville registered its hottest temperature ever — a sizzling 106 degrees. It's also when Atlanta hit 106 , the hottest temperature ever for a city known as Hotlanta.
Back in 1952, a heat wave also took place in late July, producing temperatures that rocketed up to 106 degrees on both July 28 as well as July 29.
In the Shoals, the hottest temperature ever occurred back in 1930, when temperatures hit 108 degrees. Similar to Huntsville, those temperatures occurred on July 28 as well as July 29.