This is an archived article and the information in the article may be outdated. Please look at the time stamp on the story to see when it was last updated.
Hotter weather in the short-term, rain looking more likely soon!
It's steamy tonight!  Temperatures only drop into the mid-70s with a partly cloudy sky, a light wind, and a partly cloudy sky.  An isolated shower is not impossible, but most of us will be rain-free through the night into Friday and Saturday, too.
Rain chances drop to the 10% to 20% range for Friday and Saturday, and that means it gets hotter! Expect highs in the lower and middle 90s with a heat index as high as 95ºF to 100ºF in the hottest part of the day. There is some hope for rain in the not-so-distant future, though! A slow-moving storm system early next week sets up the best chance of a good soaking rain we've had in quite a while.
Football Friday: It's going to be hot and mostly dry after school Friday afternoon; temperatures top out between 90ºF and 95ºF around 3 PM, and the thick humidity makes it feel a lot hotter than that.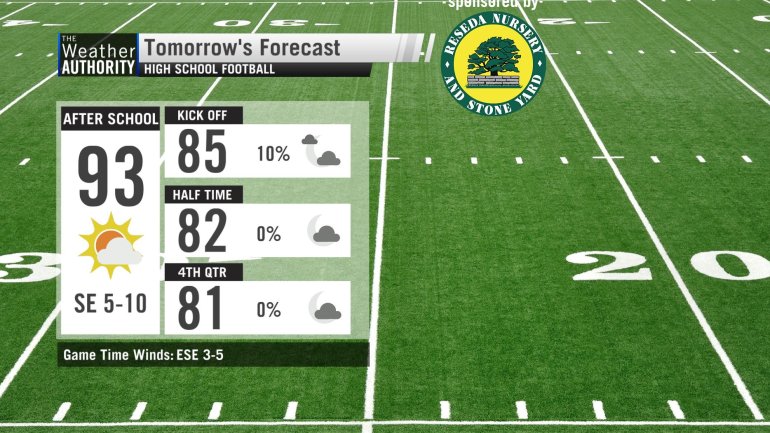 Expect a light southeast breeze under 10 miles per hour Friday afternoon and evening; temperatures by kick off drop into the lower 80s and only fall to the upper 70s by the fourth quarter. The risk of a shower is not exactly zero, but it's safe to say most of us won't come close to rain at all this Friday night.
Weekend outlook: The weekend looks hot and humid, but the heat won't be quite to the level we had last weekend. Look for a partly sunny sky both Saturday and Sunday. Some spotty showers and thunderstorms are possible both days, but Sunday afternoon's chance is a little better than Saturday's.
Temperatures rise into the upper 80s and lower 90s this weekend, and that's fairly close to the norm for early September.
Rainy days ahead? It's been a while since ALL of North Alabama got a soaking rain. Almost all of the Tennessee Valley region is in a rainfall deficit (not a formal 'drought'); very few spots have more than 50% to 75% of the rain that would be considered 'normal' over the past 60 days. Some barely have 25% of normal rainfall!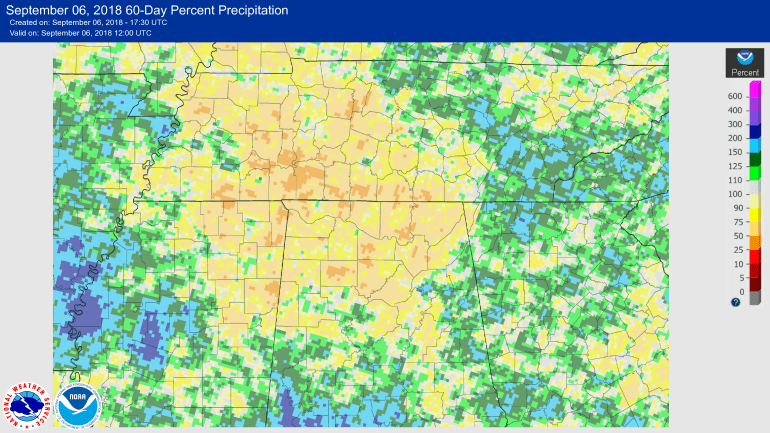 This is where the 'hope' comes in. It's far from a done deal, but we see an opportunity for several days' worth of scattered, locally-heavy showers and storms beginning late Sunday lasting through the middle of next week. Each day's rainfall will be uneven, but the cumulative effect of numerous showers and storms over several days should be enough to spread a good one to two inch soaking over the region.
Your best bet for rain? Monday and Tuesday give us the best 'chance,' but there will be a healthy dose of showers in the area every day next week.
Need some specifics about the weekend or next week? They're always online at WHNT.com/Weather and in the "Daily Forecast" section on Live Alert 19!
-Jason
Connect with me!
Facebook: Jason Simpson's Fan Page
Twitter: @simpsonwhnt