This is an archived article and the information in the article may be outdated. Please look at the time stamp on the story to see when it was last updated.
We do expect more storms over the weekend, but the next wave to come through likely happens late Saturday night into the first few hours of Sunday morning. The Storm Prediction Center outlines a SLIGHT RISK of some severe storms with high winds and hail over North Alabama and Southern Tennessee for that weekend wave; after it passes, we'll be finished with the rain for at least three-straight days.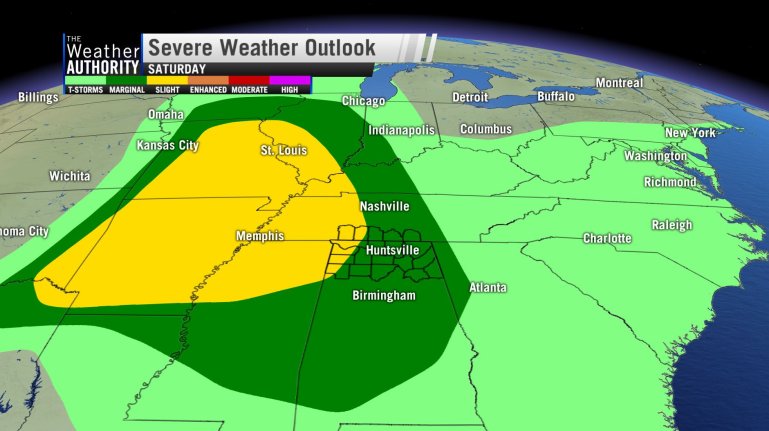 Track heavy storms with WHNT.com's Interactive Radar or swipe over to the radar feature on Live Alert 19!
Saturday & Sunday: Sometimes three numbers and an icon can't tell you everything you need to know about the weather. Don't cancel your weekend plans over the 40-50% chance of thunderstorms! Most of that rain/storm action blows through here between 1 AM and 8 AM Sunday morning.
So why a 40% on Saturday and a 50% on Sunday? We do see potential for a few showers and spotty storms early Saturday morning before the sky becomes partly cloudy and the weather just gets plain hot in the afternoon. There's also some wiggle room in the timing of the overnight storms, and that could put more rain into North Alabama before midnight. So, the main reason for the 40% chance on Saturday is to cover some showers in the morning and a chance of storms just before midnight.
The 50% chance on Sunday covers mainly that morning line of thunderstorms. Behind the line, the weather improves dramatically Sunday afternoon.
A few dry days next week: It gets drier and hotter in the days ahead! The storm machine shuts down for most of next week, and a restart very iffy at this time looking toward next weekend. Monday, Tuesday and Wednesday feature near to slightly below average temps; it turns much hotter and more humid with highs in the lower and middle 90s by the end of the week.
Need some specifics about the weekend or next week? They're always online at WHNT.com/Weather and in the "Daily Forecast" section on Live Alert 19!
-Jason
Connect with me!
Facebook: Jason Simpson's Fan Page
Twitter: @simpsonwhnt