This is an archived article and the information in the article may be outdated. Please look at the time stamp on the story to see when it was last updated.
The weather stays quiet overnight; however, a hot, humid air mass like this is capable of producing a stray shower or storm at almost any time.  In other words, don't be totally surprised if you happen to find yourself under a brief shower by morning.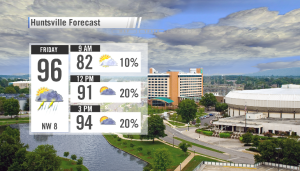 Expect bus stop and morning commute temperatures in the mid-70s; we will hit the 90s by midday and climb toward a high of 96ºF (with a  feels like near 101ºF) between 1 PM and 5 PM.  Showers and storms?  Not very likely on Friday!  There's a 20% chance that any one spot in North Alabama or Southern Tennessee gets enough rain to measure between sunrise and sunset Friday.  We will have a better shot at some storms around the area Saturday.
Weekend outlook: Got plans for Albertville's Main Street Music Festival or Swim for Melissa in Hampton Cove?  Both events have a chance of seeing some downpours, but the main time frame for rain and storms Saturday looks like roughly noon to 6 PM.  Some places will not see a single drop of rain!  We see no reason to cancel plans; just be aware that you may need to take cover from a few heavy summertime downpours Saturday afternoon and evening.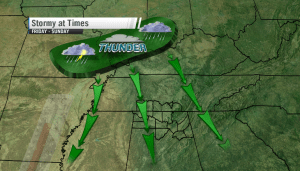 Storms thin out some on Sunday.  A weak cool front (more of a "dry" front than a "cool front") lowers the humidity and effectively shuts down most of the storms.  Don't get us wrong: it's still going to be hot and humid Sunday.  It just won't be quite as oppressively hot, and we see few (if any) scattered storms in the afternoon over the northern half of Alabama.
Track any storms that develop near you with WHNT.com's Interactive Radar or swipe over to the radar feature on Live Alert 19!
Looking for more about the weekend and next week?  Swipe over to the daily forecast on Live Alert 19 or click here for the day-by-day outlook!