This is an archived article and the information in the article may be outdated. Please look at the time stamp on the story to see when it was last updated.
During the driest, most severe part of our drought, it always seemed like rain was about 7 to 10 days away.  The modeling was giving us a carrot-and-stick scenario.  It was always out there, but never seemed to make it in reality.
The same could be said of winter weather this year.  We've had multiple views of winter weather threats in the 7-14 day time frame, but each time we've seen it, the warm weather pattern has muscled in and destroyed the dreams of snow-loving Alabamians (and Tennesseans).
Take this data for example:
In weeks past, we've seen a majority of ensemble members producing at least some snow in a 45-day period.  This time?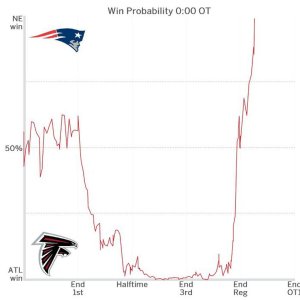 Only 23 of 50 show at least a trace of snow; only 6 out of 50 show more than 1″ of snow.  That's not what I would be comfortable hanging my hopes on!
However, given how the Super Bowl turned out Sunday night, a 99.5% chance of no snow could be Tom Brady-ed back to life with one single system.  With all of the warmth around in this pattern, I'd say the odds are probably 99.9% against it.
Not impossible but it's very unlikely.
That warmth?  It's here to stay.  (See the numbers, the rain/storm potential, and some perspective here on WHNT.com.)
We see a brief period of cooler weather late this week, then it's warmer-than-average weather again for a while.
For the first time in a long time, there's not even a legitimate 'model' snowstorm out there in the future.  We can get snow in March and April, but it looks a lot more like Spring in the long-range than anything else.
Think back to the huge storm in March 1993.  The 'Dogwood Snow' of April 1987.  Those were all one-and-done kinds of storms.  Could it happen again?  You can't ever say 'no' with 100% certainty, but it seems like a long shot right now.
It may be warm and quite dry, too, which is not good drought news.  Without solid rainfall through the Spring, we'll see the drought get worse again by early summer.
That's not good at all considering how much better the situation has gotten over the past two months!
-Jason
Connect with me!
Facebook: Jason Simpson's Fan Page
Twitter: @simpsonwhnt