This is an archived article and the information in the article may be outdated. Please look at the time stamp on the story to see when it was last updated.
It was hot again Wednesday.  Huntsville and Muscle Shoals hit 95ºF; Decatur hit 96ºF.  Huntsville has recorded ninety-four days of 90ºF heat this summer; it has been at or above 95ºF forty-nine times (7th-highest count on record).
Thursday's looking hot, too:
Tropical Storm Julia near the East Coast wrapped up most of the tropical moisture and is helping force drier air southwest from the Carolinas into the Tennessee Valley. That's why our rain chances have fallen so dramatically since early week.
The chance of rain is low, but it is not zero for Thursday. Expect a few isolated (but heavy) downpours; temperatures rise into the middle 90s by afternoon with a "feels like" upwards of 95ºF to 100ºF. Friday still looks hot with a few isolated storms, but high school football games have a good chance of missing out on the rain this week.
Track isolated storms and ongoing tropical activity with WHNT.com's Interactive Radar or swipe over to the radar feature on Live Alert 19!
Need some specifics about the weekend or next week? They're always online at WHNT.com/Weather and in the "Daily Forecast" section on Live Alert 19!
So is there any real hope of "cooler" weather anytime soon?  For the first time in a long time, we see a chance of near or slightly below normal temperatures starting just beyond the first day of Fall (September 22):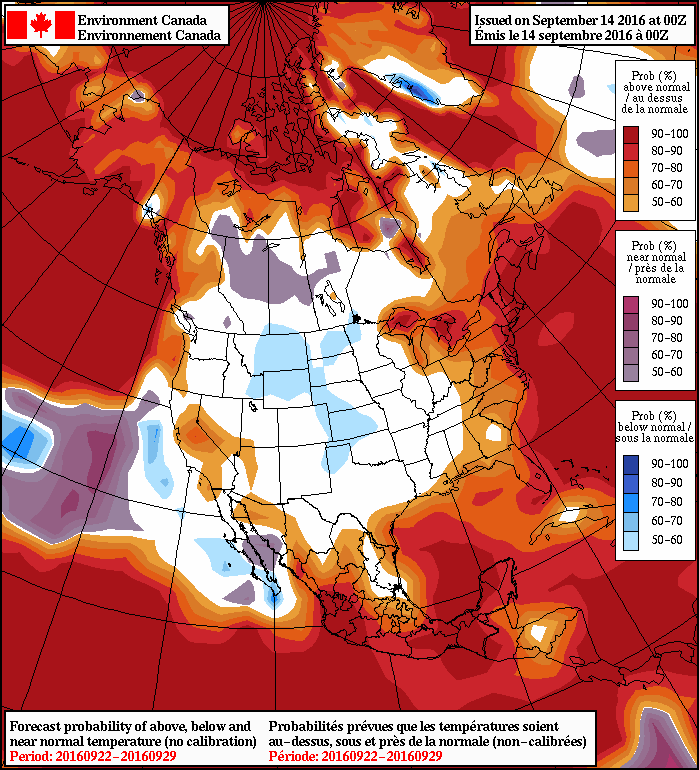 Another set of guidance shows a similar outcome: GEFS data showing temperatures relative to "normal" (follow the line labeled with zero and compare the points above and below to see the changes).  It stays hot right up to the equinox.  Then, there's a lot of uncertainty about the specifics but at least a nice trend to near or slightly below normal temps for the end of the month.  "Normal" by the end of September, by the way, means highs around 80-82ºF.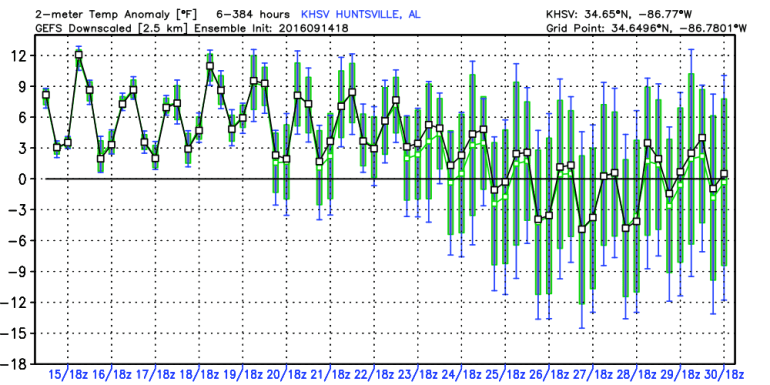 It can't stay this hot forever.  We get less direct sunlight and shorter daylight hours (losing about 2 minutes per day), so there will be some cooler weather.  Will it feel refreshing and chilly anytime soon?  That's not really likely at this point.
-Jason
Connect with me!
Facebook: Jason Simpson's Fan Page
Twitter: @simpsonwhnt