This is an archived article and the information in the article may be outdated. Please look at the time stamp on the story to see when it was last updated.
Check out this video that was sent to WHNT News 19 by Jonathan Harbison in the Moorsville area on Thursday afternoon.
In it, Jonathan noticed a large number of bees flying around in a neighborhood, and he surmised that the bees were riding an outflow boundary:
"Just about the time a storm hit today around 11:45am a colony of honey bees seemed to be riding the straight line winds of the storm passing right by us."
In observing the radar data at the time and location of the event, it appears that light rain was approaching the Moorsville area.
In addition, Doppler wind speeds indicate that winds in the region spanned between 15 mph and 20 mph. Anemometers at nearby Pryor Field in Decatur measured a 23 mph wind gust between 11:30am and 12:00pm.
While it does not look like a massive swarm of bees are riding a particularly strong outflow boundary in the video above, it does appear that they are exhibiting somewhat "aggressive" behavior as Jonathan describes being hit as the bees fly around in the wind.
This prompts the question: Do bees display "aggressive" behavior before storms?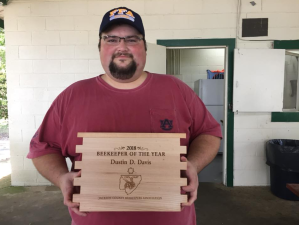 "You can sorta tell that bees….  I think sorta sense that there is an oncoming storm or boundary coming through because you'll see large quantities and large droves of workers coming back at one time. Usually about 10 or 15 minutes before the storm hits or comes through," explained Dustin Davis, owner of Double D farms and vice president of the Jackson County Beekeeper Association.
"I do notice at times that when there is a boundary coming through that they all seem to rush back and try to get into the hive."
How do the bees know that rain is on the way?
"I read at one point, they actually the hairs on the bees sometimes pick up electrostatic frequencies from the air, and they sense that frontal boundary coming through, so they go back to the hive," Davis explained.
Formal meteorological research on bees' behavior before — and during —  a thunderstorm is currently rather sparse. However, one particular research paper published in 1987 supports the theory that "that higher overall activity of the bees [occurs] under high temperature and high humidity conditions" which often preclude bad weather, like thunderstorms.
With temperatures and dewpoints in the 70s, the atmosphere was quite warm and quite humid before the rain arrived, which may have spurred higher bee activity, as seen in Jonathan's video.
Anecdotal evidence from beekeepers suggest that while bees are not necessarily perturbed by rain drops themselves, but rather extreme changes in atmospheric pressure, which indeed is what occurs when thunderstorms develop in our region.
Davis has first hand knowledge with his bees.
"You can notice their attitude… Especially if it's overcast."
I work my bees usually in just maybe, sometimes without a veil but most of the time just in shorts and t-shirt most of the time."
"You can't do that on days when it's overcast. We tend not to work our bees when it's gonna storm or rain because they do not like it. They just get wild."
Weather and Biology: More meteorological/biological combinations
Scientific topics like chemistry, physics, and biology are often taught separately in grade school, but in nature, they can come together on a large range of topics — including meteorology.
For example, weather radars are used to monitor the migration patterns of birds, including purple martins. Doppler radar can also be used to track mayfly swarms and even bats!