This is an archived article and the information in the article may be outdated. Please look at the time stamp on the story to see when it was last updated.
The weather can change quickly this time of year, and many times you'll see adjustments to the Seven Day Forecast that you won't see in Summer or early Fall. The adjustments are usually based on timing: not on missing a storm system completely.  Look at how crazy the high temperature forecast looks through the weekend: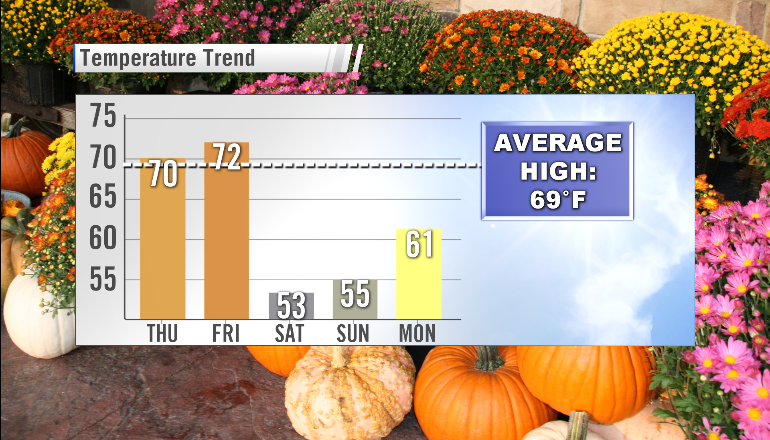 Friday, Friday night, and Saturday are all adjustable at this point as we time out a storm system that could bring a risk of heavy rain and some severe storms to the Tennessee Valley region. The timeline right now looks to be from 5 PM Friday to 5 AM Saturday.
So what could happen here? A dynamic system like this probably only produces gusty winds and rain; however, if the atmosphere destabilizes enough Friday night, some severe storms could develop into a line moving across North Alabama and Middle Tennessee Friday night.
The primary 'threats' there would come from wind gusts over 50 miles per hour and a low-end risk of a tornado. Remember, that's IF the fuel is there; if it's not, we end up with a blustery, rainy night followed by a sharp change to cold weather Saturday and Sunday.
Blustery Saturday: As much as one to two inches of rain likely fall between Friday evening and Saturday morning. The widespread rain moves out before lunchtime Saturday, but drizzle and some light showers may linger behind (especially east of the Huntsville area) through the afternoon.
It'll be breezy ahead of the front and behind it; expect wind gusts up to 25 miles per hour behind the front on Saturday. The 'feels like' temperature will only be about 35ºF to 45ºF with that stiff breeze and limited sunshine; actual high temperatures briefly make the lower 50s in the Huntsville area, but the higher elevations won't even get close to 50ºF in the afternoon.
Track heavy storms with WHNT.com's Interactive Radar or swipe over to the radar feature on Live Alert 19!
Need some specifics about the weekend or next week? They're always online at WHNT.com/Weather and in the "Daily Forecast" section on Live Alert 19!
-Jason
Connect with me!
Facebook: Jason Simpson's Fan Page
Twitter: @simpsonwhnt