This is an archived article and the information in the article may be outdated. Please look at the time stamp on the story to see when it was last updated.
To say that Saturday has been a cold, wet and windy day is an understatement. Temperatures hovered in the low 40s from Saturday morning all through Saturday evening, with the Huntsville Airport logging as many as 12 continuous hours at 43 degrees.
Going on 12 hours of steady 43 degree temperatures in #HSV… #ValleyWx #ALwx #HUNwx pic.twitter.com/1HTMvQYwq2

— Christina Edwards (@ChristinaWHNTwx) December 9, 2018
The region has already picked up 1 – 2 inches of rain since midnight Saturday, and  batches of heavy rain continue to push through the northeastern portion of the Tennessee Valley through Sunday morning. Expect another 1-2 inches of rainfall before noon time on Sunday.
The wind will pick up overnight into early Sunday as a feature known as a low level jet starts to strengthen over eastern Alabama. The low level jet (LLJ) is found about one mile above the surface of the ground, and it is pulling warm, humid air into the region. This LLJ can also increase wind speeds well above the surface of the ground, speed that can be transferred downwards and produce wind gusts as high as 25 to 35 mph. Gusty winds have already been observed at local airports, with Huntsville International registering a 43 mph wind gust during the 8pm hour Saturday evening. Power outages have been reported throughout Cullman County as well as nearby Marshall County.
8:30pm: A 43 mph wind gust was registered at KHSV this Saturday evening…With all of the rain today, I hope no trees get toppled tonight! Temperatures are in the low 40s but the wind makes it feel like the mid 30s! #Valleywx #ALwx pic.twitter.com/nrRhK1YzQy

— Christina Edwards (@ChristinaWHNTwx) December 9, 2018
Clouds and rain keep temperatures flat-lined for Sunday morning: hovering in the upper 30s and lower 40s. The temperature won't be moving much, but this storm system will be on the move. Colder air builds in behind the main surface low Sunday, potentially changing us from rain to a wintry mix or snow in some cases. Surface temperatures stay above freezing, and the light nature of the precipitation likely prevents any major, disruptive accumulations of snow or ice this weekend.
Could we get some legitimate snow? It's not out of the question for a small accumulation of snow from Sunday night through Monday; however, with surface temperatures above 32ºF all weekend and into Monday, a major 'disruptive' snow is unlikely.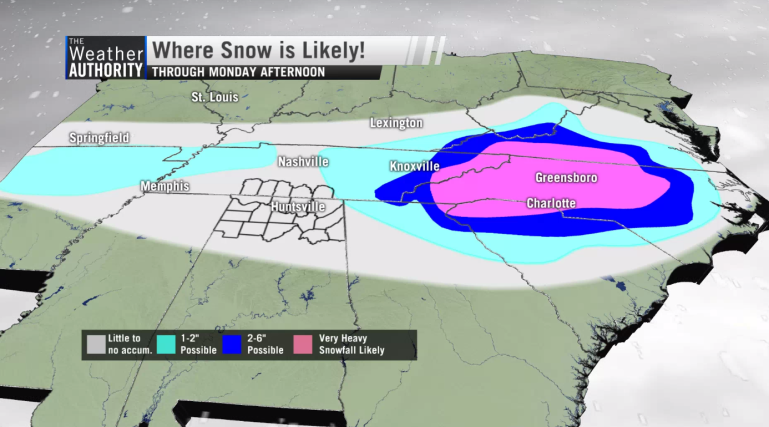 Why Sunday and Monday? Saturday was a confirmed all-day-rain kind of day. This is due to something called warm air advection: a phrase we use to describe warmer air on the move. It's actually one of the most efficient ways to get rain or snow because it creates the most 'lift' over the broadest area.
The warm air stops moving in and slightly colder air moves in behind it. Cold air 'advection' (similar idea, just cold air this time) isn't quite as good at producing precipitation. In fact, it tends to reduce it because of the subsidence (sinking air) it creates. As light, leftover showers Sunday transition from rain to snow or a wintry mix, the precipitation will be so light that we don't expect any significant accumulations.
A totally different system – an upper-air low – moves in overhead on Monday. Those features are often very good at creating 'lift' and producing fairly widespread precipitation. They also tend to create colder air around them, and that's why we think there's a good chance of snow showers throughout the day Monday. Some small accumulations (probably around 1" or less) are possible with the on-and-off snow showers beginning Monday morning going through early afternoon.