This is an archived article and the information in the article may be outdated. Please look at the time stamp on the story to see when it was last updated.
A stalled front just northwest of Alabama paired with a strong southerly flow of moist air will send multiple rounds of heavy rain through the Tennessee Valley this weekend. Even between the rounds of heavy rain though, we'll still see lighter scattered showers. Essentially, it's going to be raining from now through Sunday afternoon.
Flood Watch: This rain is the latest in a series of widespread rain events that have moved through this February. Since grounds are already saturated from recent rains and we have more on the way, the National Weather Service in Huntsville has issued a Flood Watch  for all of Southern Tennessee and Northern Alabama through Saturday and into Sunday afternoon.
It is important to heed caution when flood conditions occur. Do not attempt to drive through flood waters, since only 6 inches of moving water can knock a person down and 12 inches of moving water can carry away a small car (12-24 inches for larger vehicles, trucks and SUVs). Second to heat-related illnesses, flooding is the deadliest weather-related hazard in the United States over the past 30 years.
After 24-36 hours of on-and-off showers this storm system will slowly move eastward, pulling a weak cold front through Alabama Sunday morning. Lingering showers continue through Sunday afternoon, but rain will begin to thin out by Sunday evening. By the time rain tapers off we'll have picked up 1-3 inches of rain across the entire Tennessee Valley, with some pockets of 3+ inches possible.
Limited Storm Threat: The southerly wind will continue to pull warm and humid air into the region, so even with the cloud cover and rain showers, temperatures will hover in the upper-50s to low 60s for the next 24-48 hours.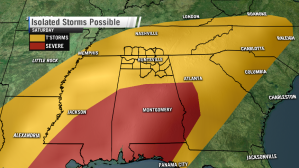 The southerly air will also lend just enough instability for a few isolated thunderstorms to develop. Any storms that manage to develop could contain winds up to 40+mph, occasional lightning, and heavy downpours.
While you could hear a few rumbles of thunder through Saturday night, but the chance of storms will stay mainly confined to South Alabama.
Download Live Alert 19 for the latest alerts and use our interactive radar to track the rain!