This is an archived article and the information in the article may be outdated. Please look at the time stamp on the story to see when it was last updated.
FLORENCE, Ala. – Numerous heavy downpours and strong storms brought tremendous bursts of rain to parts of northwest Alabama Saturday afternoon.
The heavy rain is due in part to a rich flow of moisture off the Gulf of Mexico which has been in place for several days.
The highest rain totals occurred in Franklin and Lauderdale Counties.
Radar estimates more than two inches of rain may have fallen around Belgreen and Phil Campbell.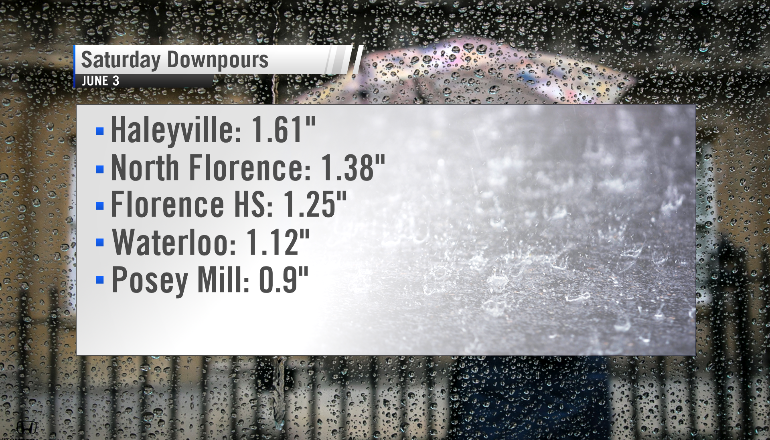 Several weather stations in the county recorded well over an inch of rain in just a matter of a few hours Saturday afternoon.
Weather observation sites near Downtown Florence tallied between one and two inches of rain.
Here are some other rain totals from select weather stations in northwest Alabama:
Russellville: 0.71″
Moulton: 0.80″
Cullman: 0.71″
Wright: 0.44″
Additional heavy downpours are likely during the day Sunday. Click here to read the forecast discussion.