This is an archived article and the information in the article may be outdated. Please look at the time stamp on the story to see when it was last updated.
The National Weather Service posted an Excessive Heat Warning for Lauderdale, Colbert, Franklin, and Lawrence Counties in Alabama through Tuesday evening. There is a Heat Advisory for everyone else.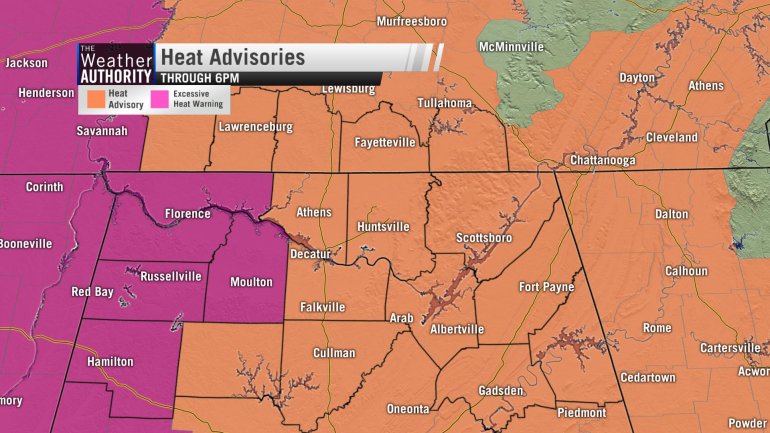 The difference between an Excessive Heat Warning and a Heat Advisory is how high the heat index gets; the combination of hot temperatures and high dewpoints (70s) will make the heat index climb as high as 110ºF to 115ºF on Tuesday. High temperatures Tuesday will be among the highest of the year: upper 90s. The hottest so far in both Huntsville and Muscle Shoals is 98ºF.
The heat index topped out in 'warning' range officially on Monday; according to the National Weather Service in Huntsville, it was as high as 112ºF in Florence!  Huntsville's heat index was 110ºF, but the high was only 94ºF.  Don't let your eyes deceive you!  It's not about what you see, it's about how your body responds to the heat. Be extra careful!
Take extra precautions if you work or spend time outside. When possible, reschedule strenuous activities to early morning or evening. Know the signs and symptoms of heat exhaustion and heatstroke. Wear light weight and loose fitting clothing when possible and drink plenty of water. Check up on relatives and neighbors. Never leave children or pets unattended in vehicles!