This is an archived article and the information in the article may be outdated. Please look at the time stamp on the story to see when it was last updated.
Check out the video below, taken on July 20 by Debbie Waddell in Rainsville:
When I first saw this video, I thought "what are those, bats?" But Debbie confirmed that they are purple martins! It looks like hundreds of them are setting up residence in the trees.
Debbie explains, "Taken July 20th, those are purple martins that are flying into a tree in our yard. We are a migratory roost for them; there are thousands that come in each night around 8:00 at our home in Rainsville."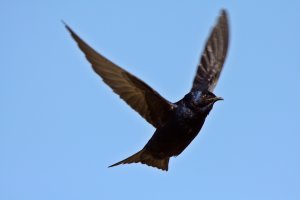 Purple martin males are identified by the iridescent, indigo feathers on the birds' heads and bodies; often the wings are brown-black or dark grey. Female purple martins are less flashy, with gray heads and bodies as well as whitish bellies.
According to Audubon.org, purple martins are North American swallows that forage almost entirely in the air. Their diet consists of flying insects including wasps, flying ants, and moths.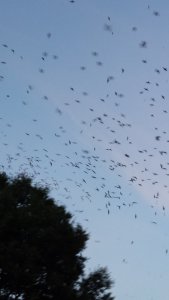 PurpleMartin.org, a conservation association dedicated to the research, education and conservation of purple martins, states that the birds migrate seasonally, often residing in South America during winter before traveling back north for the summer. Once they arrive, the flocks gather into large roosts within trees or bodies of water, and they can stay active within these roosts for as long as four to six weeks before migrating.
The Cornell Lab of Ornithology says purple martin roosts can number in the thousands by late summer, as seen in Debbie's video and photograph. Such a large number of birds in a small amount of space means that they can be detected by weather radar, especially in the morning as they leave to find food; the radar imagery looks like an "expanding donut on the radar map". The tweet below from the National Weather Service in Greensville, South Carolina illustrates what "roost rings" look like on radar.
Our radar detecting sunrise "Roost Rings" of Purple Martins leaving nesting islands. #scwx #gawx pic.twitter.com/Na9rIHMv1U

— NWS GSP (@NWSGSP) July 25, 2015
Have you seen any purple martin roosts where you live? If so, email your pictures or videos to photo@whnt.com!