This is an archived article and the information in the article may be outdated. Please look at the time stamp on the story to see when it was last updated.
Hurricane Harvey made landfall near Rockport, Texas (About 30 miles NNE of Corpus Christi) late Friday night. Harvey made landfall as a Category 4 hurricane with sustained winds of 130 mph. That makes Harvey the first major hurricane (Category 3 or stronger) to make landfall in the U.S. in nearly 12 years, and the first Category 4 hurricane to make landfall in the U.S. since Hurricane Charley in 2004.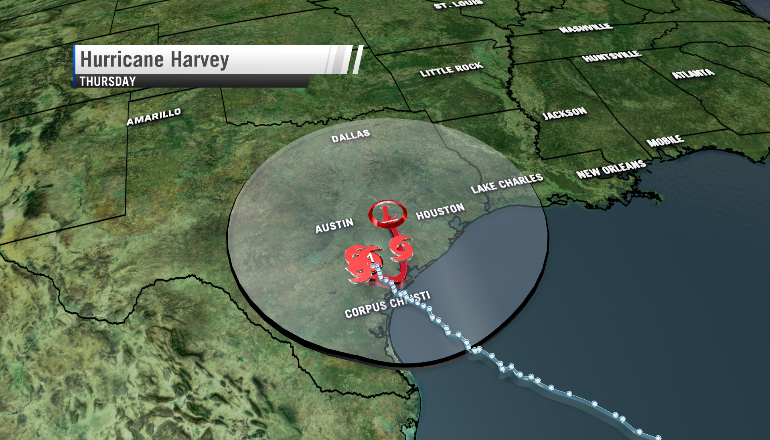 Hurricane Harvey did weaken as it moved inland, but as of Saturday morning the storm is still a Category 1. The center of Harvey is about 50 miles inland, while rain bands stretch as far inland as Austin, TX. Harvey isn't going to make it much farther inland. The storm is expected to stall out over the central coast of Texas. Harvey will then bring eastern Texas dangerous weather conditions for several days.
Major Threats of Harvey: 
Life-threatening flooding will likely be the most significant danger that Harvey brings. Coastal cities will be facing a 10+ foot storm surge, on top of the 15+ inches of rain that has already fallen from Corpus Christi to Port Lavaca. The Texas Bend is looking at over 25-35 inches of rain by the end of next week.
Damaging winds won't let up this week either. Harvey is expected to maintain tropical storm strength winds (40+ mph) through Wednesday.
The winds and flooding together will mean major structural damage, impassable roads, and power outages. These risks stretch into major cities, including San Antonio, Austin, and Houston.