This is an archived article and the information in the article may be outdated. Please look at the time stamp on the story to see when it was last updated.
You may have heard that a severe weather outbreak is looming for the Great Plains early this week. Meteorologists are very concerned about the atmospheric conditions that may come together from eastern Texas into southern Nebraska. Damaging winds, large hail and strong tornadoes are expected from Tuesday afternoon through early Wednesday morning.
Where will this outbreak occur?
The image at left is the Storm Prediction Center's convective outlook, valid for Tuesday morning at 7 a.m. through Wednesday morning at 7 a.m.
The focus of the severe weather is expected to occur in the areas labeled "slight", "enhanced" and particularly "moderate", and it spans from east-central Texas north into southern Nebraska.
In particular, the area that has the greatest chance of experiencing damaging winds, hail, and tornadoes spans from south-central Oklahoma through central Kansas into southern Nebraska.
Cities in this region include Edmond, Lawton, Norman and Oklahoma City in Oklahoma; Wichita and Salina, Kansas; and Hastings, Nebraska. According to the Storm Prediction Center, this region (denoted by the purple hatched shading, left) has a 45 percent chance of experiencing significant severe weather (i.e. damaging winds, large hail and tornadoes) within 25 miles of a particular point.
However, strong to severe thunderstorms are not limited to Oklahoma, Kansas and Nebraska. In fact, a 30 percent chance of significant severe weather is possible for east-central Texas — including Wichita Falls, Denton, Dallas-Fort Worth, Arlington, and Plano. Further north, areas expecting an enhanced risk for severe weather includes Tulsa, Oklahoma; Kansas City, Kansas; and Lincoln, Nebraska.
When will the outbreak occur?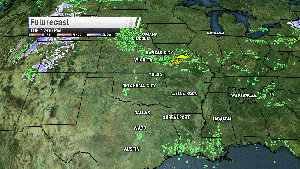 The Storm Prediction Center's outlooks are valid from 7 a.m. Tuesday through 7 a.m. Wednesday.
A few morning showers and storms are expected to develop throughout central Nebraska and northeastern Kansas, and a large cluster of thunderstorms are forecast to move through central Missouri.
Elsewhere, clear to party cloudy skies throughout the Great Plains Tuesday morning will allow the atmosphere near the ground to quickly warm and destabilize through the afternoon. Severe storms will likely fire up after 4 p.m. and continue through late Tuesday into the early morning hours on Wednesday.