This is an archived article and the information in the article may be outdated. Please look at the time stamp on the story to see when it was last updated.
After a chilly weekend with temperatures in the low-to-mid 60s, a gradual warm up is in store for the Tennessee Valley over the course of this week.
Zonal flow (meaning air flows from west to east) sets up over the Southeast on Monday and Tuesday. This means  that temperatures will gradually warm into the mid 60s with mostly sunny skies. That will put highs right at average for this time of year for the first half of the week.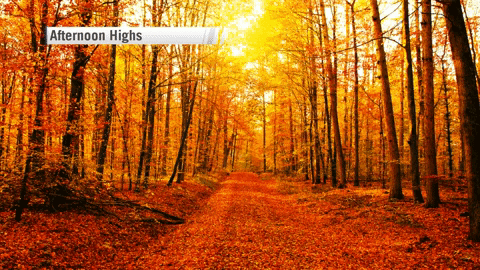 After the middle of week, warmer and more humid air will build in as a southerly flow takes over ahead of an advancing cold front. This leads us into our next chance of rain at the end of the week as well as daytime highs approaching the low 70s!
Once the cold front moves through next Friday and Saturday, cold air returns to the Tennessee Valley in time for the weekend before Thanksgiving.
Longer-range guidance suggests that daytime highs will stay limited to the upper 50s behind the cold front, and a second reinforcing blast of cold air will arrive on Thanksgiving Day, making for a brutally cold experience waiting in line outside of stores on Black Friday. Click here for our more in-depth forecast discussion for the next 10 days in the Tennessee Valley.