This is an archived article and the information in the article may be outdated. Please look at the time stamp on the story to see when it was last updated.
Two words started it all just after 3:30 AM on April 27th: "Good Morning."
It wasn't profound, and it most certainly wasn't going to be a good morning. It was just what I usually did in my role as a morning meteorologist at ABC 33/40 on April 27, 2011.

My day started the night before at 11 PM when the alarm on my iPhone told me it was time to get up and start what would be one of the hardest days I would ever face.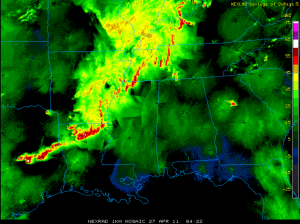 I woke up, saw an intense squall line just west of the Mississippi River, and knew I had a few hours to get ready for what would eventually be known as the April 27th Superoutbreak.
We expected the worst storms in the afternoon, but none of us thought the first round would be as destructive and deadly as it was.
By the time the sun came up, several strong tornadoes had already ripped across our state.  Power was out, cable was out, cell phone service was degraded and in some cases completely down, NOAA Weather Radio service was knocked out for some.
I stood on the platform in front of a large monitor after we wrapped up the first few hours of coverage knowing it was far from over.  Then it really started to sink in.  Communications were severely degraded across the state, and a violent tornado outbreak was hours away.  Damage reports were coming in, the first light of day showed just how bad it had been.  It was hours before I knew my own family in Holly Pond had been accounted for when my wife finally got a call through to my mom and dad.
So it wasn't a good morning at all.
If the morning was bad, the afternoon was Hell on Earth.
That's where the story stops being about me and my co-workers.  April 27th isn't about me recalling facts, it's about our state losing so much on one day.  It's a story of people clinging to roots in crawl spaces while houses disintegrated around them.  It's a story of pain and loss.  It's a story of hope on one of the darkest days in Alabama history.
Sure, it affected me greatly.  When I woke up the next morning after a 25-hour workday, the death toll had climbed from around 30-40 to as many as one hundred.  It would eventually climb to over 200.  It was as devastating to me as any news I had ever heard.  I got in my truck and headed to work to meet a photographer headed to Cullman where I would cover the Governor's press conference on the steps of the Cullman County Courthouse.
On the way up I-65, I saw power crews from Georgia and North Carolina coming to help us.  I crossed four fresh tornado scars going northbound on the Interstate, and Cullman was a wreck.
Having to live through days like April 27th and the following weeks seems like a dark curse.  It hangs heavy.  The lessons I learned affect how I do my job even today five years later.
It has also been a blessing of sorts.  I got to witness first hand how we all helped each other pick up the pieces.  We embraced those who lost so much, and we hugged our families tighter remembering how fragile life really is.
On April 27, 2011 I had not become a father yet.  My wife Lacey was carrying our son Walt who would be born almost 6 months later.  Since then, life has changed a lot.  We moved here to Huntsville into the WHNT News 19 family.  We've welcomed two more children into the world, Shelby and Brody, with the love and support of the Tennessee Valley behind us the whole way.
I get to be a dad, and I get to serve some of the finest people in the world here in North Alabama and Southern Tennessee.  I don't take either of those responsibilities lightly.  April 27th will always be a day we pause to remember the pain.  Years from now when the scars are all covered by new buildings and new trees, the thing I want to remember most is not the tornadoes – but how we have become better people for the trials we have faced.
-Jason
Connect with me!
Facebook: Jason Simpson's Fan Page
Twitter: @simpsonwhnt