This is an archived article and the information in the article may be outdated. Please look at the time stamp on the story to see when it was last updated.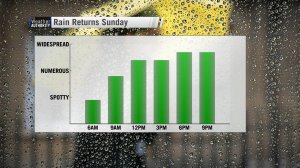 A slow moving storm system will be approaching the Tennessee Valley today, sending us cloudy skies and scattered showers. Light showers are already moving into Alabama this morning, but the rain will become more widespread after 2PM. We could also hear a few rumbles of thunder this afternoon, but we don't expect strong storms – we do however expect some heavy downpours so still be cautious if you'll be out Sunday!
Daytime highs will remain suppressed in the upper 50s to low 60s due to the overcast skies and periods of heavy rain. To make it even less comfortable outside it's also going to be quite breezy. We will see sustained southeasterly winds of 10 to 15 miles per hour with gusts as high as 20 to 25 mph.
The heaviest rainfall comes Sunday evening through early Monday morning, and in all, we could see a few spots getting more than 1" to 2" of total rainfall by midday Monday.
Soggy Work Week Ahead: The heaviest rain will be moving out Monday evening, but that's not the end of the rain. Rain chances stay elevated through at least the middle of next week too.
An active weather pattern will set up for the week ahead, sending through multiple 'disturbances' from the west. At the same time we'll continue to get a steady flow of moisture from the south. That will translate into at least hit-and-miss showers Tuesday, Wednesday, and Thursday.
Then our next cold front swings in by Friday. That means more rain is possible on Friday, but how much of that lingers into next weekend is still to be determined.
You can keep up with the forecast and the pesky rain this week with Live Alert 19 and our interactive radar!