This is an archived article and the information in the article may be outdated. Please look at the time stamp on the story to see when it was last updated.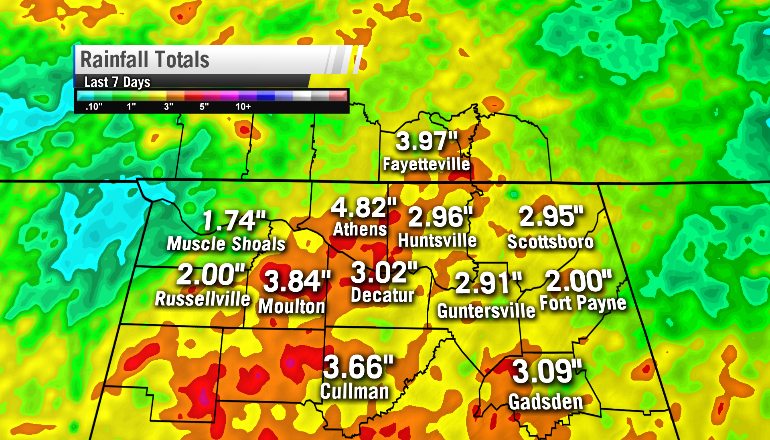 We saw quite a bit of rain this past week!  What was Tropical Storm Cindy pulled a lot of tropical moisture into the Valley, which lead to rainfall totals of 2-4 inches across the Tennessee Valley.
Incredibly though, Huntsville and Muscle Shoals are still looking at rainfall deficits. While Huntsville's deficit has been narrowed down to less than one inch, Muscle Shoals is still 4 inches behind on rainfall for the year. Still, many of us will be glad to hear we have drier air on the way! A few dry days will give all this rain time to soak into the ground too.
A cold front will slip south of the Valley Saturday, which will usher in more spring like weather. Winds Saturday will shift from a muggy southwest flow to a dry north flow. Dewpoints will drop from the low 70s Saturday morning to the 50s Sunday morning, making it feel much more comfortable outside.
This dry air also comes in with cooler air. You might even need a light jacket a few mornings!
Morning lows from Sunday-Wednesday will plummet into the upper 50s to near 60. The current forecast low of 57°F Tuesday morning is within striking distance of a record low (55°F in 1974). Afternoon highs will stay comfortable, in the mid 80s.
We stay dry (with lower humidity) through the end of the week; our next chance of rain comes with a gradual uptick in humidity by the weekend. That means our 'normal' chance of a few afternoon and evening storms.