This is an archived article and the information in the article may be outdated. Please look at the time stamp on the story to see when it was last updated.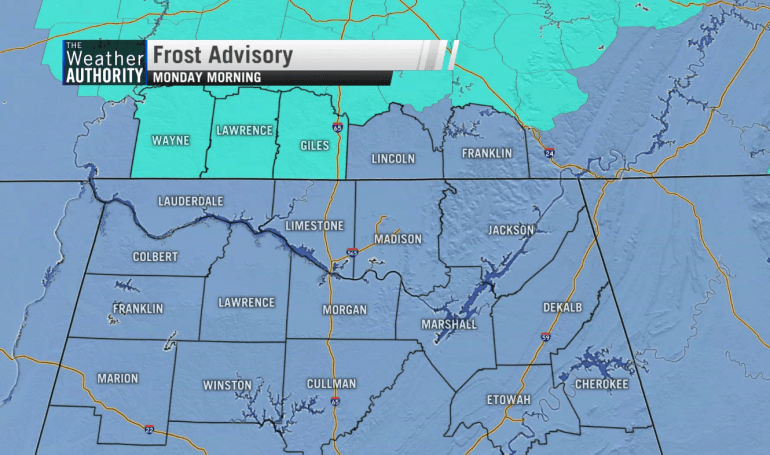 The coldest air of the fall season has arrived, and temperatures will get down right frosty Monday morning!
The Frost Advisory in effect through 8am is mainly for agricultural purposes, when sensitive plants will need to be protected from the frost.
This also serves as an advisory for those who have sensitive houseplants that may need to come in for the evening.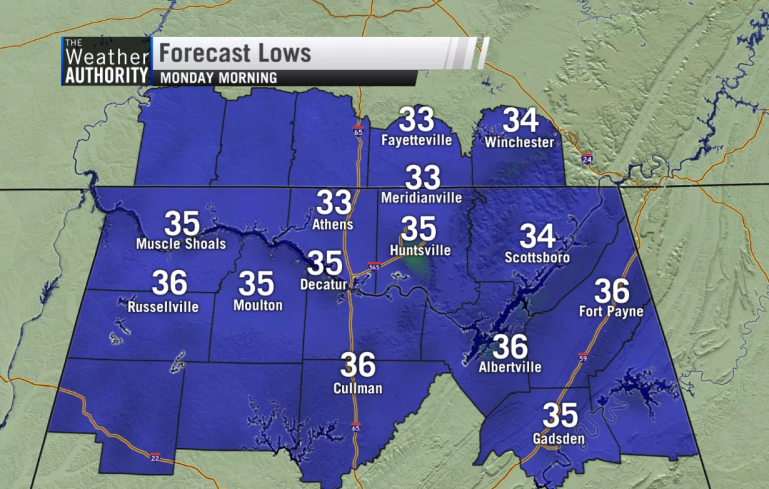 Below are additional details from the National Weather Service in Huntsville. We would love to see your frosty photos! Submit yours via the button below.
URGENT - WEATHER MESSAGE
NATIONAL WEATHER SERVICE HUNTSVILLE AL
230 PM CDT SUN OCT 21 2018

...AREAS OF FROST POSSIBLE EARLY MONDAY MORNING ACROSS THE 
TENNESSEE VALLEY...

.THE COMBINATION OF A CLEAR SKY AND LIGHT WINDS WILL ALLOW FOR THE
DEVELOPMENT OF FROST EARLY MONDAY MORNING ACROSS THE REGION AS
TEMPERATURES FALL INTO THE MID 30S. THE MOST SUSCEPTABLE AREAS TO
FROST DEVELOPMENT WILL BE IN SHELTERED VALLEY LOCATIONS WHERE
WINDS GO CALM. THE FROST WILL DISSIPATE AFTER 8 AM MONDAY 
MORNING.

ALZ001>010-016-TNZ076-096-097-221000-
/O.NEW.KHUN.FR.Y.0001.181022T0800Z-181022T1300Z/
LAUDERDALE-COLBERT-FRANKLIN AL-LAWRENCE-LIMESTONE-MADISON-MORGAN-
MARSHALL-JACKSON-DE KALB-CULLMAN-MOORE-LINCOLN-FRANKLIN TN-
INCLUDING THE CITIES OF FLORENCE, MUSCLE SHOALS, SHEFFIELD, 
TUSCUMBIA, RUSSELLVILLE, RED BAY, MOULTON, TOWN CREEK, ATHENS, 
HUNTSVILLE, DECATUR, ALBERTVILLE, BOAZ, GUNTERSVILLE, ARAB, 
SCOTTSBORO, FORT PAYNE, RAINSVILLE, CULLMAN, LYNCHBURG, 
FAYETTEVILLE, WINCHESTER, SEWANEE, DECHERD, ESTILL SPRINGS, 
AND COWAN
230 PM CDT SUN OCT 21 2018

...FROST ADVISORY IN EFFECT FROM 3 AM TO 8 AM CDT MONDAY...

THE NATIONAL WEATHER SERVICE IN HUNTSVILLE HAS ISSUED A FROST
ADVISORY, WHICH IS IN EFFECT FROM 3 AM TO 8 AM CDT MONDAY.

* TEMPERATURES...IN THE MID 30S.

* TIMING...FROM 3 AM TO 8 AM CDT MONDAY.

* IMPACTS...FROST COULD HARM SENSITIVE OUTDOOR VEGETATION.

* LOCATIONS...ALL OF NORTH ALABAMA AND PORTIONS OF SOUTHERN 
  MIDDLE TENNESSEE.

PRECAUTIONARY/PREPAREDNESS ACTIONS...

A FROST ADVISORY MEANS THAT WIDESPREAD FROST IS EXPECTED.
SENSITIVE OUTDOOR PLANTS MAY BE KILLED IF LEFT UNCOVERED.