This is an archived article and the information in the article may be outdated. Please look at the time stamp on the story to see when it was last updated.
Expect a warm, humid night. Lows drop into the low-70s with some spotty showers lingering through early Friday morning. It's hot, it's humid, and it's stormy at times on Friday. Look for a high around 90ºF with storms becoming likely by early afternoon.
The risk?  A few isolated severe storms could develop from late morning through mid-afternoon – very similar to the way they did on Thursday.  Our concern is for a few storms with wind gusts in the 40-60mph range as well as localized extremely heavy downpours and intense lightning.
Track heavy storms with WHNT.com's Interactive Radar or swipe over to the radar feature on Live Alert 19!
Severe weather odds: We don't often think of summer as a 'severe weather season,' but it has its own kind of severe weather peak: mainly from damaging winds associated with downbursts.
LEARN MORE ABOUT HOW SUMMER STORMS WORK HERE ON WHNT.COM
Climatologically speaking – or in terms of how the weather usually works – North Alabama is rapidly coming off the 'peak' of summer storm intensity. The severe weather threat typically 'dries up' after August 20th until we start dealing with the Fall tornado season.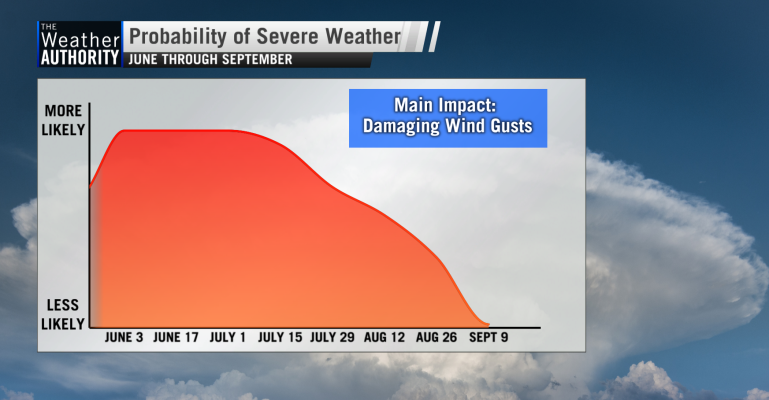 True to form, though, we do see a risk of a few severe storms through the weekend: primarily on Friday, but a low chance for Saturday and Sunday as well.
The Storm Prediction Center outlines a MARGINAL RISK of severe weather for Friday in North Alabama and Southern Tennessee: mainly for the possibility of strong winds occurring within a few individual storms.
Need some specifics about the weekend or next week? They're always online at WHNT.com/Weather and in the "Daily Forecast" section on Live Alert 19!
-Jason
Connect with me!
Facebook: Jason Simpson's Fan Page
Twitter: @simpsonwhnt