This is an archived article and the information in the article may be outdated. Please look at the time stamp on the story to see when it was last updated.
Thursday was one of the coldest November days on record.  Huntsville's official high for the day was 36ºF at midnight; it only rebounded to 34ºF in the afternoon after a brief dip to 32ºF.  That 34ºF is cold enough to tie for tenth-coldest over all in the record book going back to 1907.  The single-coldest day?  That was November 25, 1950 with a high of only 19ºF!
Lows Friday morning dropped to the 20s:
22ºF in Frankewing, TN
23ºF in Russellville, Central (Lauderdale Co.), Boaz, and Little River Canyon
24ºF in Zip City, New Market, and Park City, TN
25ºF in Decatur, Crossville and Valley Head
26ºF in Fort Payne, Scottsboro, Muscle Shoals and Courtland
27ºF in Huntsville and Meridianville
28ºF in Albertville
That kind of cold is almost always going to do something like THIS in November and December! The white spiky ice is 'hoar' frost on a knockout rose with some frozen water drops on the inner part of the bloom: water leftover from rain and mist that froze when the temperature fell (not freezing rain).
Check out the frost flowers from Franklin County: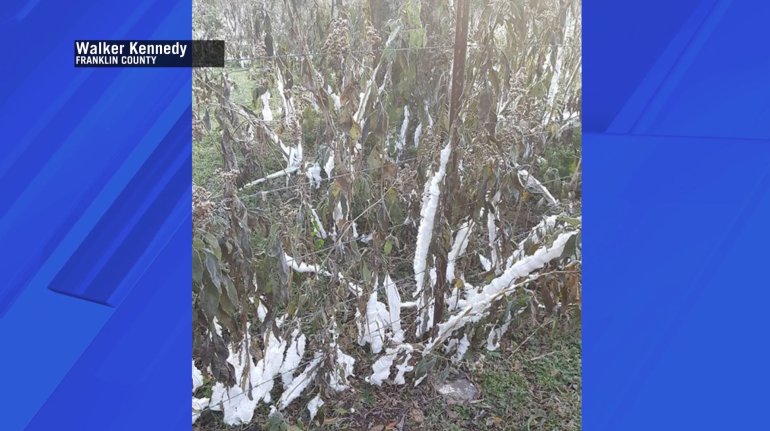 The information detailed below is courtesy the Missouri Department of Conservation.
"Frost flowers" are ribbons of frozen sap that form at the bases of certain plants during the first hard freezes in fall.
When do they appear?
Frost flowers occur only in late fall after the first few hard freezes and while the ground is still warm.
Their season is brief, and they disappear quickly on the day they occur, melting like frost when the air warms or rays of sunlight fall on the delicate structures.
How do they form?
While the plants' stems are ruptured by the first hard freeze, the root system is still sending up plant sap from the warmer ground. The sap pushes through the broken stem and freezes on contact with the cold air. As more saps moves up, it forces the freezing stream of white ice crystals into ornate, folded ribbons that look like petals, puffs of cotton candy, or snarls of white thread.
Looking for the forecast? It's always online at WHNT.com/Weather and in the "Daily Forecast" section on Live Alert 19!
-Jason
Connect with me!
Facebook: Jason Simpson's Fan Page
Twitter: @simpsonwhnt