This is an archived article and the information in the article may be outdated. Please look at the time stamp on the story to see when it was last updated.
Dry air heats and cools efficiently, and Thursday's temperature range showed just how wide the swing can be!  It dropped to 55ºF in Fort Payne early in the day, but Huntsville ended up hitting 87ºF in the afternoon.  Friday looks similar to that: a cool, comfortable morning followed up by a toasty, warm, dry afternoon with highs in the middle to upper 80s.
Humidity inches up over the next 48 hours.  You won't notice it at first, but it will become more apparent this weekend.  That increase in moisture leads to a chance of some hit-or-miss showers as early as Sunday afternoon.
High School Friday and the weekend: It's Week Zero of high school football in Alabama, and the weather couldn't be much better than this for late August. Friday afternoon's highs in the mid-80s happen around 2 to 5 PM; temperatures drop into the 74-79ºF range by kick-off, and keep dropping toward the upper 60s and lower 70s by the fourth quarter.
Friday and Friday night and Saturday look dry, but we expect some spotty showers and a few isolated thunderstorms around for Sunday. Higher humidity for the weekend raises the discomfort level a bit, but we won't even come close to the kind of torrid heat of the past few days!
Increasing humidity this weekend makes it feel a little more summer-like on Saturday.  A light southeast breeze on both Saturday and Sunday blows moist air into the Valley, and it may just be humid enough for some isolated showers and/or thunderstorms Sunday afternoon.  The prospects for widespread heavy rain remain very low, so don't cancel any outdoor plans!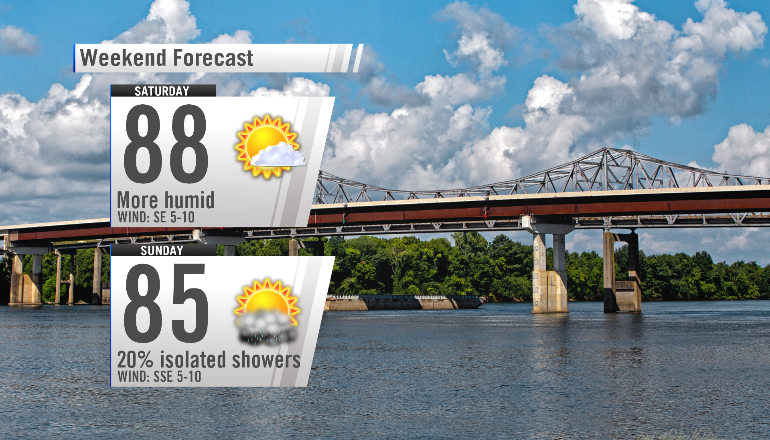 Looking for more information about Hurricane Harvey and the extended forecast? It's all here: WHNT.com/Weather and in the "Daily Forecast" section on Live Alert 19!