This is an archived article and the information in the article may be outdated. Please look at the time stamp on the story to see when it was last updated.
February was warm, March has been cold so far.  With just over a week to go in the month, Huntsville International is running almost 2ºF below average on the whole with seven freezes this month.  That happens to be right at the 'normal' amount of freezes one would expect in March, but some of the lowest temperatures away from town have been downright frigid!
There's a warm-up in sight for the weekend, but we'll barely be cracking 'average' warmth for late March with high temps only getting into the upper 60 with a chance of some rain.
From our Forecast Discussion at WHNT.com:
Rainfall looks relatively light on Saturday, but light, steady showers could put a damper on afternoon and evening plans. Temperatures start out in the 40s Saturday morning and warm into the mid-60s in spite of the clouds and showers Saturday afternoon.

The 30% chance of rain for Sunday covers for a few showers that may linger early in the day and for some that may try to come in before the day is finished. The majority of Sunday looks to stay rain-free and mild: highs in the 60s.
At best, we see about 3-4 'warm' March days before the month is over (warm meaning warmer than average highs in the upper 60s).
Early next week, a wedge of cold air blows in from the east wrecking the warm-up for Monday and slowing it down for Tuesday.
So what does April hold for us?
It sure looks like more of the same that we had in March: abnormally cool weather.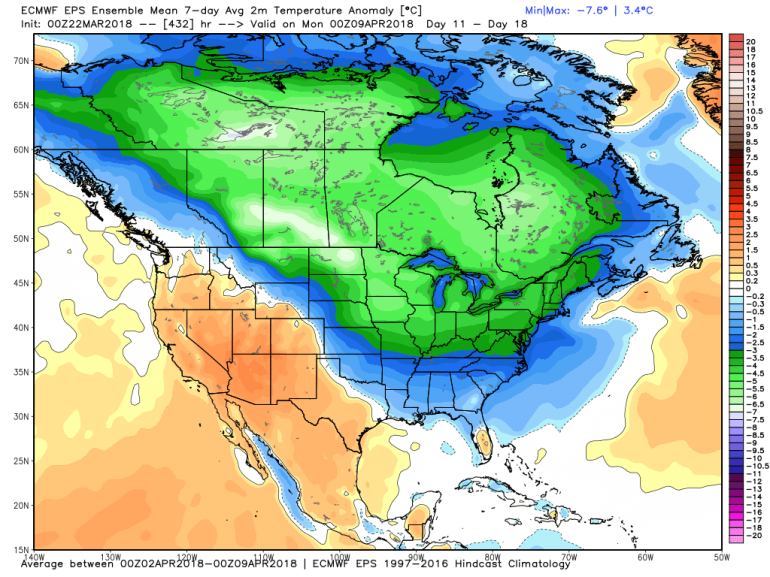 We have had snow in April (1987) and multiple freezes over the years (the last April freeze in Huntsville was in 2009).
Snow is very, very, very unlikely.  A freeze, though?  That's certainly possible a hand full of times through April 15th in Huntsville, and potentially as late as early May in the usual cold spots!
Just because it's looking cooler-than-average does not mean we won't have more severe weather. We just had a round of severe storms with some strong tornadoes on March 19th – in an over-all chilly month. It only takes a few hours of warm, humid weather to cause some nasty storms, and remember that April is the peak of the tornado season in Alabama! We'll keep our eyes peeled for any signs of nasty weather!
Need some specifics about the weekend or next week? They're always online at WHNT.com/Weather and in the "Daily Forecast" section on Live Alert 19!
-Jason
Connect with me!
Facebook: Jason Simpson's Fan Page
Twitter: @simpsonwhnt