This is an archived article and the information in the article may be outdated. Please look at the time stamp on the story to see when it was last updated.
Freeze Watches and Warnings posted from Missouri to the Gulf Coast and Central Florida show just how impactful this cold blast really is!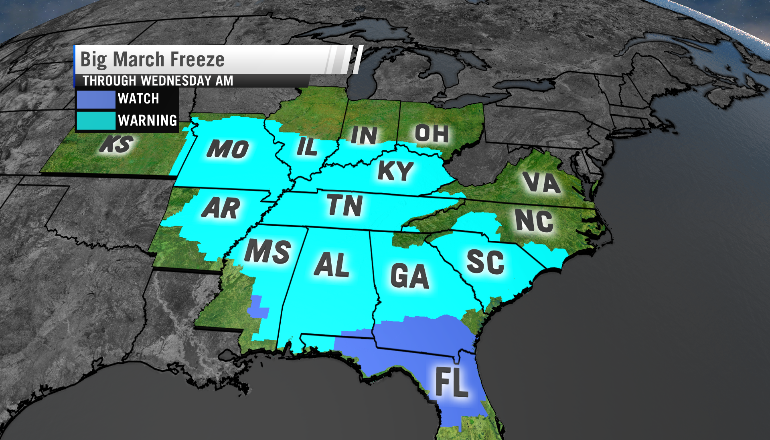 Wednesday featured a meager warm up from Tuesday, with most of us making it into the low 40s during the afternoon. That was after starting the day at 25 degrees Wednesday morning in Huntsville! That same frosty air will hit us again Wednesday night too.
Expect a hard freeze: as many as 10-12 hours of subfreezing temperatures between 10 PM Wednesday to 8 AM Thursday. (The record low temperature Thursday is 20 degrees set in 1911, but we probably won't make it there).
This will be another destructive freeze; any flowering plants, trees, or shrubs that are already in bloom could be damaged or killed. Take action to protect any plants susceptible to extreme cold. It's also advisable to do a little more to keep outdoor pets warm on very cold nights like this.
Close to record cold? It might seem strange for temperatures to be this cold in March without a major winter storm occurring, but the coldest March 16th on record was quite similar! Huntsville bottomed out at 20 degrees March 16th 1911 without any snow on the ground!
Need some specifics about the weekend or next week? They're always online at WHNT.com/Weather and in the "Daily Forecast" section on Live Alert 19!