This is an archived article and the information in the article may be outdated. Please look at the time stamp on the story to see when it was last updated.
The heat won't back down unless you're lucky enough to get a quick downpour!
The 'feels like' temperature hit the mid-90s Wednesday afternoon: September 20th. The air temperature got close to 90ºF, but that humidity made this late-season round of summertime heat even worse.
Expect more of the same tomorrow: another foggy start Thursday morning, another quick warm-up to the upper 80s with a 'feels like' of 91ºF to 95ºF in the afternoon, and another chance of some pop-up, hit-or-miss, brief showers and/or thunderstorms.  The odds of getting wet?  Only about 10%.
There's not a lot of change to be found in the big-picture weather over the next few days, but there will be some day-to-day changes that you may notice! The coverage of scattered showers and storms increases again on Friday and Saturday, but there is a chance of some rain here and there (very unevenly distributed) each day through Sunday.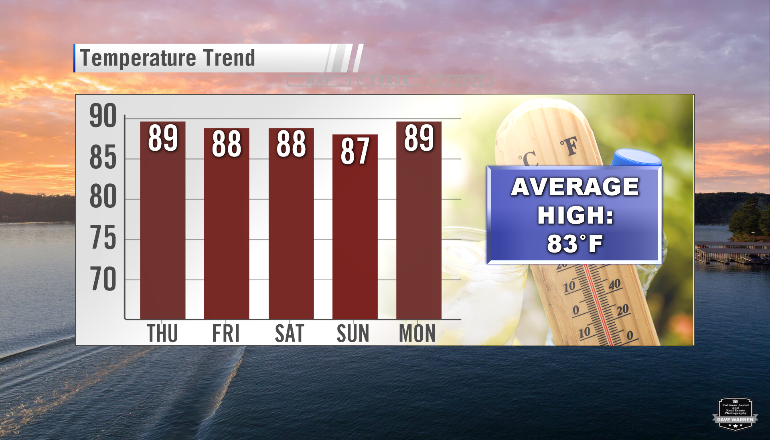 Showers, storms increase soon: A few spotty showers likely develop on Thursday, but we see better 'coverage' of scattered storms on Friday and Saturday. From the perspective of 'will it rain in North Alabama and Southern Tennessee' that means a lot to a forecaster; however, to you as an individual with unique plans, it's not so useful unless you try to see the bigger picture.
The odds of one locally-heavy thunderstorm coming over you Thursday are around 10%. On Friday and Saturday, that chance triples to 30%. We do not see any 'all day, everybody-gets-soaked' rainfall, but these little storms can be disruptive to yard sales, football games, as well as outside work and play.
The best way to use information like that is to 'expect' that it will rain somewhere nearby. Plan for that possibility and understand that it's a chance – not a certainty.
Tools like WHNT.com's Interactive Radar or the radar feature on Live Alert 19 can help you steer around the showers, and Live Alert 19 even gives you alerts when precipitation and lightning are in the area.
Showers thin out Sunday, and the first part of next week just looks dry and hot: temperatures as much as 5ºF to 10ºF above average.