This is an archived article and the information in the article may be outdated. Please look at the time stamp on the story to see when it was last updated.
The National Weather Service in Huntsville has issued a flood warning for areas along the Flint River in southern Madison County, mainly the Brownsboro area. This flood warning extends south into New Hope.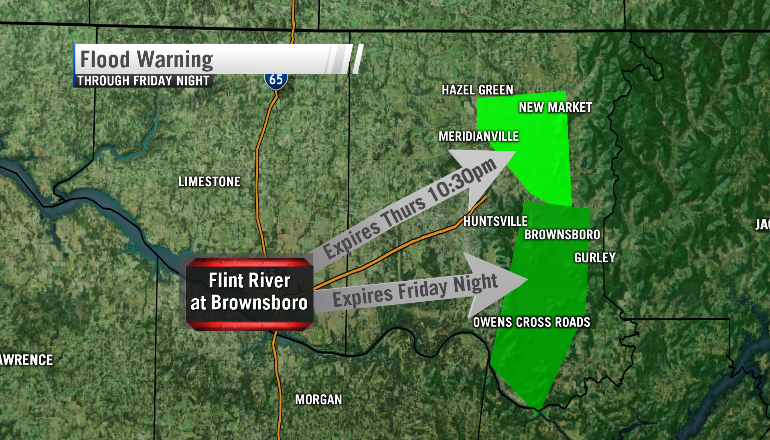 Heavy rain developed in northern Madison County early Thursday morning; as much as 3 to 5 inches of rain impacted areas including Toney, Harvest, and New Market.
As of Thursday evening, the Hazel Green Fire Department is reporting Billy D. Harbin and Walker Lane roads closed; these roads were washed out due to flood waters.
Madison County Commission also closed Moores Mill Road at Jacob's Farm Road Thursday evening; this intersection is closed until further notice due to flooding.
Thursday evening through Friday night impact
Northeast Madison County's flood waters are draining into the Flint River; as a result, flood conditions are expected for areas further downstream in southeastern Madison County.
According to the National Weather Service in Huntsville, forecast guidance indicates that the Flint River will crest higher than earlier information indicated. The NWS is also concerned that the Flint River will impact the Hampton Cove area.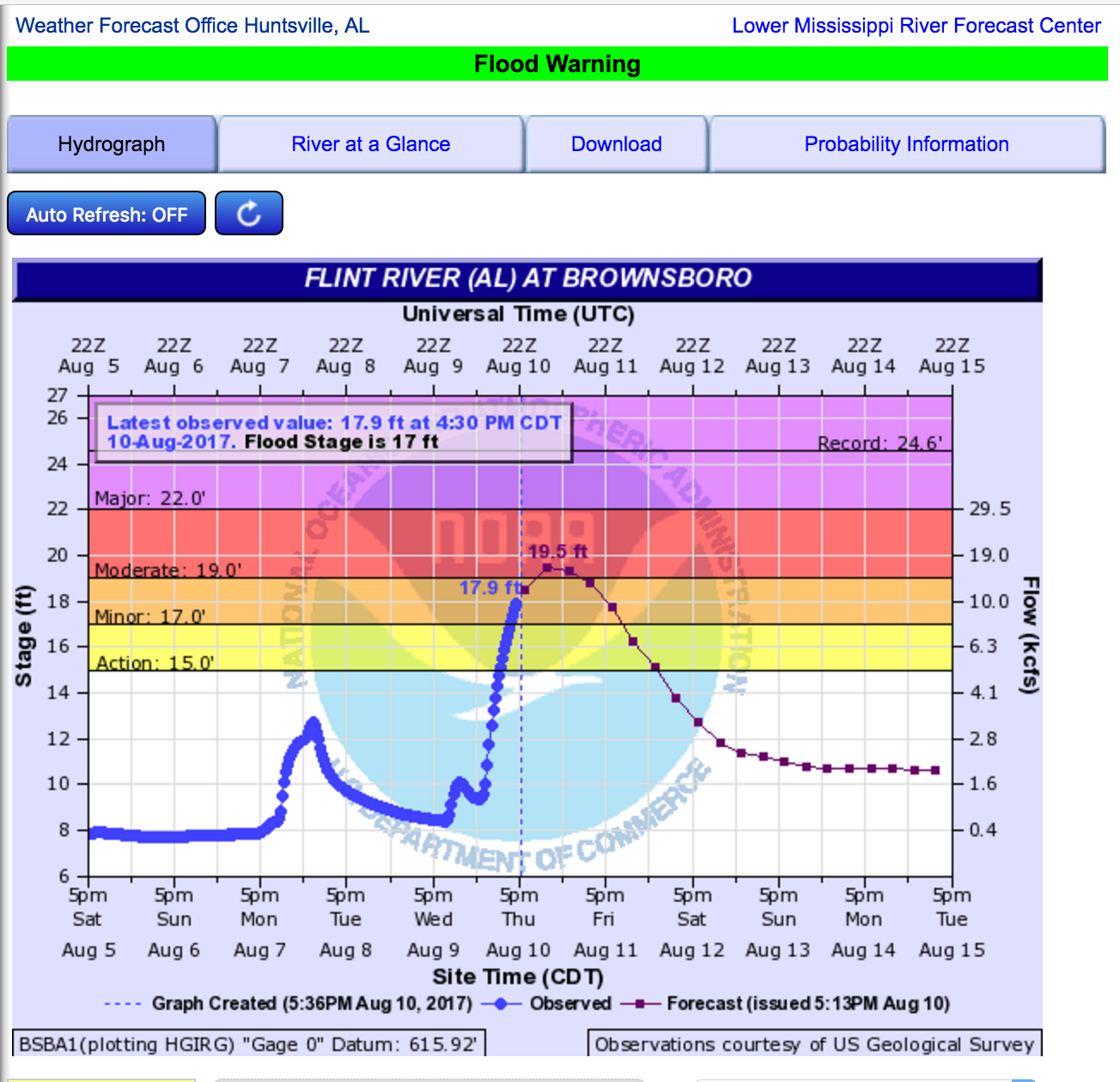 Below is additional information from the National Weather Service regarding the Flood Warning.
Flood Warning
National Weather Service Huntsville AL
520 PM CDT Thu Aug 10 2017

…Forecast Flooding Changed from Minor to Moderate Severity for the
following rivers in Alabama…
Flint River at Brownsboro affecting Madison County

PRECAUTIONARY/PREPAREDNESS ACTIONS…

Safety message…A flood warning means that flooding along the river
is imminent or occurring. The dangers of rapidly rising water are
more difficult to recognize at night. Move to higher ground to escape
flood waters. Precautions to protect life and property should be
rushed to completion.

Additional information is available at http://water.weather.gov. Once
there…click on the Tennessee Valley to view local river
information.

&&

ALC089-111220-
/O.EXT.KHUN.FL.W.0010.170810T2217Z-170812T0848Z/
/BSBA1.2.ER.170810T1953Z.170811T0600Z.170812T0248Z.NO/
520 PM CDT Thu Aug 10 2017

…Forecast flooding increased from Minor to Moderate Severity…
The Flood Warning continues for
the Flint River at Brownsboro.
* until late Friday night.
* At 4 PM Thursday the stage was 17.9 feet and rising.
* Flood Stage is 17.0 feet.
* Minor Flooding is occurring and Moderate Flooding is forecast.
* Recent activity…The maximum river stage in the 24 hours ending at
4 PM Thursday was 17.9 feet.
* Forecast…The river will continue rising to near 19.5 feet by
after midnight tonight. The river will fall below Flood Stage late
tomorrow evening.
* Impact…At 20.0 feet…Backwater on a nearby tributary added to
floodwaters from the Flint River both reach a small bridge on
Brownsboro Road.
* Flood history…This crest compares to a previous crest of 19.2 feet
on Feb 4 2016.

&&

RIVER FLOOD OBSERVED 12AM 6AM 12PM 6PM CREST
LOCATION STAGE STG DAY TIME Fri Fri Fri Fri STG DAY TIME

FLINT RIVER
Brownsboro 17.0 17.9 Thu 4 PM 19.5 19.3 18.8 17.7 19.5 Fri 1 AM

&&

LAT…LON 3476 8649 3475 8638 3461 8639 3447 8647 3454 8655

$$