This is an archived article and the information in the article may be outdated. Please look at the time stamp on the story to see when it was last updated.
The soaking rain we've been waiting on for months finally came!  A few communities have had more than seven inches of rain since last Friday; some got more than four inches in the past twenty-four hours.  The Flash Flood Watch expires at 7 PM Wednesday as the flood threat ends; however, more rain is coming tonight and Thursday.
Expect more spotty showers and occasional thunderstorms as long as we have a stalled front in the area.  A weak area of low pressure moving along that front early Thursday brings one more batch of widespread showers and storms: dumping another 0.25" to 0.75" of rain mainly near and southeast of the Huntsville-Decatur area.  Showers finally taper off Thursday afternoon, and other than a slim chance of a few brief, light showers Friday, we have a decent period of dry mostly weather ahead.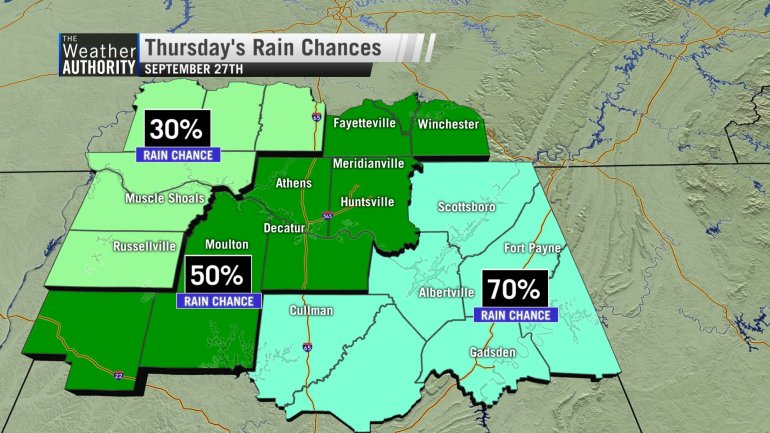 So how much rain did we get?  It may not be enough to totally 'end' the drought that has developed over the past few weeks, but the drought is definitely down for the count at the moment!  A few spots have more than 6-8″ of rain since last Friday; some have more than four inches since Tuesday afternoon.
Friday and the weekend: Football fields may still be soggy following this week's rain on Friday night, but the rain will be gone in time for kickoff.  A brief shower or two may still be possible Friday afternoon; other than that, we see no real risk of downpours or lightning delays for Football Friday.  Temperatures will be in the 70s a kick off dropping into the 60s through the fourth quarter.
Saturday and Sunday look mostly dry.  Why 'mostly' and not 'completely?'  Saturday looks like it could be completely dry, but Sunday brings up a low ten percent chance of a few spotty, light showers.  The humidity will pick up on a southeast wind, and that alone can initiate a little shower activity here and there.
Looking dry for a while:  This week's good soaking will have to do us for a while.  Other than a few spotty showers in the Sunday-Monday timeframe, there's not much hope for rain next week.  Oh, and it gets hotter again, too.
The average high/low for the first week of October should be around 79ºF by day and 55ºF by night.  The first week of October 2018 won't be quite that comfortable!  Expect highs in the upper 80s and lows in the upper 60s/lower 70s.
Track heavy storms with WHNT.com's Interactive Radar or swipe over to the radar feature on Live Alert 19!
Looking for the forecast? It's always online at WHNT.com/Weather and in the "Daily Forecast" section on Live Alert 19!
-Jason
Connect with me!
Facebook: Jason Simpson's Fan Page
Twitter: @simpsonwhnt