This is an archived article and the information in the article may be outdated. Please look at the time stamp on the story to see when it was last updated.
The National Weather Service in Huntsville as well as Birmingham have issued a Flash Flood Watch for much of the Tennessee Valley as well as central Alabama.
As much as 2.5 to 5 inches of rain is forecast to fall between early Friday morning and late Friday night.
While not everyone will experience torrential rainfall, the potential does exist for portions of southern Tennessee and Alabama to receive heavy rain over the same area throughout the day, leading to flash flood conditions.
Remember: It only takes 6 inches of swiftly moving water to knock a person off their feet. A foot of water (12 inches) can float a small car/vehicle, and 18-24 inches of swiftly moving water can wash away large trucks and SUVs. Click here for additional information regarding the forecast for the Tennessee Valley.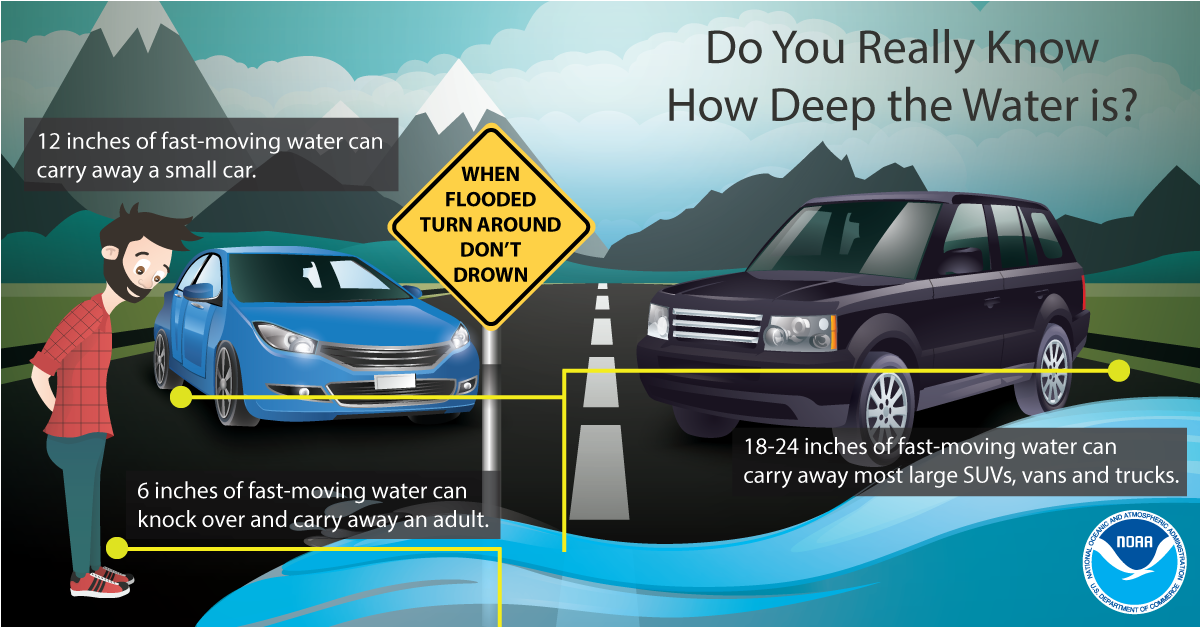 Below is the official Flash Flood Warning statement from the National Weather Service in Huntsville.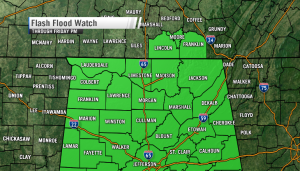 000
WGUS64 KHUN 272027
FFAHUN

URGENT - IMMEDIATE BROADCAST REQUESTED
Flood Watch
National Weather Service Huntsville AL
327 PM CDT Thu Jul 27 2017

...Flash Flood Watch for Friday morning through Friday evening...

.A cold front approaching from the north will bring widespread
showers and thunderstorms across much of the Tennessee Valley
during Friday. Total rainfall amounts should range in the one and
one half to two inch range, however some spots could receive 
locally higher amounts, due to very high amounts of moisture 
present in the atmosphere. Runoff from very heavy showers could 
produce flash flooding of flood prone areas. 

ALZ001>010-016-TNZ076-096-097-281000-
/O.NEW.KHUN.FF.A.0002.170728T1400Z-170729T0200Z/
/00000.0.ER.000000T0000Z.000000T0000Z.000000T0000Z.OO/
Lauderdale-Colbert-Franklin AL-Lawrence-Limestone-Madison-Morgan-
Marshall-Jackson-De Kalb-Cullman-Moore-Lincoln-Franklin TN-
Including the cities of Florence, Muscle Shoals, Sheffield, 
Tuscumbia, Russellville, Red Bay, Moulton, Town Creek, Athens, 
Huntsville, Decatur, Albertville, Boaz, Guntersville, Arab, 
Scottsboro, Fort Payne, Rainsville, Cullman, Lynchburg, 
Fayetteville, Winchester, Sewanee, Decherd, Estill Springs, 
and Cowan
327 PM CDT Thu Jul 27 2017

...FLASH FLOOD WATCH IN EFFECT FROM FRIDAY MORNING THROUGH FRIDAY
EVENING...

The National Weather Service in Huntsville has issued a

* Flash Flood Watch for portions of Alabama and southern middle 
  Tennessee, including the following areas, in Alabama, Colbert, 
  Cullman, De Kalb, Franklin AL, Jackson, Lauderdale, Lawrence, 
  Limestone, Madison, Marshall, and Morgan. In southern middle 
  Tennessee, Franklin TN, Lincoln, and Moore. 

* From Friday morning through Friday evening

* Showers and thunderstorms will affect the region during Friday,
  producing generally one and one half to two inches of rainfall.
  However localized amounts of over 3 inches are possible,
  especially if showers repeatedly affect an area, coupled with 
  the very high amounts of moisture in the atmosphere. 

* Locations around the Tennessee Valley that recently received
  heavy rainfall would be more susceptible to flash flooding. 

PRECAUTIONARY/PREPAREDNESS ACTIONS...

A Flash Flood Watch means that conditions may develop that lead
to flash flooding. Flash flooding is a VERY DANGEROUS SITUATION.

You should monitor later forecasts and be prepared to take action
should Flash Flood Warnings be issued.

&&

$$