This is an archived article and the information in the article may be outdated. Please look at the time stamp on the story to see when it was last updated.
A Flood Watch remains in effect through Friday; several 'Flood Warnings' are in effect as well 
Several Flood Warnings are in effect!  You can see the latest radar imagery as well as up-to-the-minute warnings using WHNT.com's Interactive Radar or swipe over to the radar feature on Live Alert 19! There's a 'layers' tab you can adjust the warning settings on to turn them on and off.
The persistent soaking rain finally shifted east of North Alabama and Southern Middle Tennessee Wednesday evening, but the saturated ground, swollen waterways, and Areal Flood Watch live on through the end of the week. Showers thin out overnight, but a band of light to moderate rain redevelops over Central Alabama Thursday morning and moves northbound into the Huntsville area by midday. An additional 0.25" to 0.50" comes with that band across North Alabama and Tennessee through early evening.
More rain is coming on Friday; however, the greater threat of 'heavy' rain doesn't impact all of North Alabama this time: another 1-2" (isolated 3-4") of rain expected Friday over the northwestern corner of Alabama through Mississippi and West Tennessee.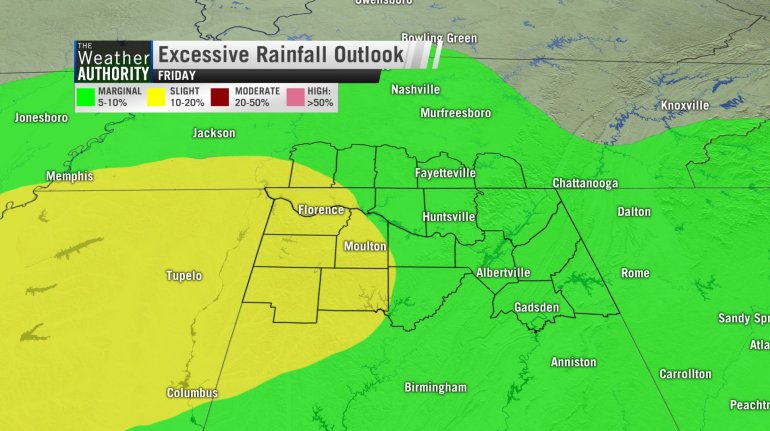 More rain blows in Saturday with a strong cold front, and some severe storms are possible Saturday afternoon and evening.
Areal Flood Watch: The National Weather Service continues the Areal Flood Watch through Friday afternoon. The rain may be ending temporarily, but we don't see a great opportunity to 'dry out' until Sunday. That means the ground stays saturated and any additional heavy downpours could lead to more flooding.
River flooding impacts look like this:
Tennessee River at Florence with a rise to around 20-22 feet through Friday: 'Alabama State Highway 20 is flooded at the underpass below U.S. Highways 43 and 72. The underpass will likely be closed. McFarland Park will be flooded.'
Tennessee River at Whitesburg will rise to around 19-20 feet through Friday: 'Lowland flooding begins at 17 feet. Some access roads in the area become flooded. Water backed into Long Pond Slough begins to approach roads on the Morgan County side of the river. The entrance to the Ditto Landing area is underwater…along with much of the boat harbor. Several roads in northeastern Morgan County are underwater…and water is beginning to approach a home on River Loop Road in the Laceys Spring Community.
Paint Rock River will crest near 18' on Thursday: 'Water is covering Alabama State Route 65 about two miles north of U.S. Highway 72. Several County Roads in Paint Rock Valley are flooded…including Jackson County Road 20.'
Flint River will crest around 20.5′ Wednesday afternoon: 'At 21.0' floodwaters reach a house trailer off of Brownsboro Road and waters likely cover Brownsboro Road to the point that it must be closed.'
Weekend outlook: There's finally a break in the rain coming by Sunday, but we have to get through a potentially stormy Saturday to get there. The Storm Prediction Center has extreme northwest Alabama under an *enhanced risk* for severe storms on Saturday. The rest of us are under a *slight risk*.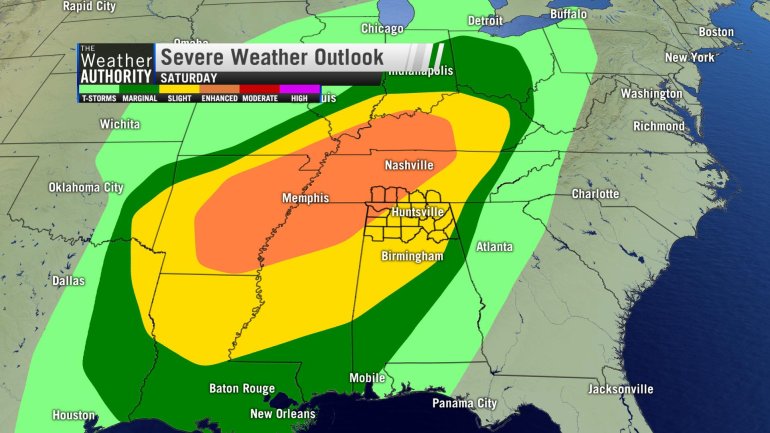 There are some limiting factors to the strength of the storms (namely the storm system's position and its ability to create severe weather this far south); however, we do recommend being in a severe weather mindset for Saturday.
Storms, if they do become severe, would develop between 11 AM and 2 PM and come in two waves: one in the middle of the day and another along the cold front between 6 PM and midnight.
Behind the cold front, Sunday finally dries out! It will stay cool, but it won't get 'cold.' Expect highs in the 70s with a strong south wind on Saturday and the 50s on Sunday with a chilly west breeze.