This is an archived article and the information in the article may be outdated. Please look at the time stamp on the story to see when it was last updated.
Northwest Alabama is still recovering from the effects of flash flooding that occurred Sunday.
A slow moving thunderstorm developed over the Florence-Muscle Shoals area Sunday afternoon, producing as much as 3 to 9 inches of rainfall over the course of a few hours.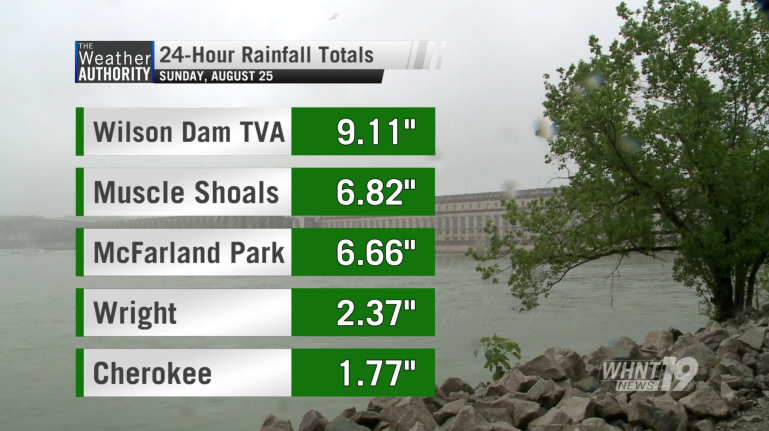 The National Weather Service issued a Flash Flood Emergency for the entire Shoals area Sunday based on reports from the local Emergency Management agencies. According to the NWS, "an extremely dangerous situation developed across the Shoals late [in the] afternoon!" It has since been canceled, however the area is still recovering from the heavy rain that fell well into the evening.
Road closures have been reported from the area, including:
Helton Drive just south of Cox Creek Pkwy
Darby Drive is also reported as impassable just north of Florence Blvd
Complete blockage of  Rivermont Road in Florence due to a downed tree
Florence Fire responding to Veterans Drive and Blair Street for a vehicle stuck in water, occupant unable to get out.
Vehicle stuck in water at Ana Drive and Rosa Lane in Florence
Water reported flowing over 2nd Street and into buildings in Downtown Muscle Shoals
Water reported flowing over River Road and into a church in East Muscle Shoals
Flooded roadways reported in Cherokee caused by pounding of water on Hwy 72 near the Colbert Steam Plant
ALDOT and State Troopers have been notified about reported flooding on Hwy 72 and Shop Loop due to overflowing ditches.
An accident was reported that was caused by ponding of water on HWY 72 near the Colbert Steam Plant.
Significant street flooding reported along Old Chisolm Road
Two feet of water reported over Mulberry Lane in Cherokee
The NWS also said the Lauderdale EMA is comparing the flooding in Florence to the historic flooding that occurred in 2003, and it says that the rainfall totals measured at the TVA Wilson Dam is close to the all-time daily 24-hour rainfall record for all of north Alabama set on December 25-26, 2015 at Lake Guntersville.
The @nwshuntsville says the rainfall stat at Wilson Dam/Muscle Shoals TVA is close to the *All-Time* measured 24-hr daily rainfall record for *ALL* of north Alabama, which was set on Dec 25/26, 2015 at Lake Guntersville Water Plant (9.80" of rain) (2 of 2) #ValleyWx #ALwx pic.twitter.com/VfJgNn5EeB

— Christina Edwards (@ChristinaWHNTwx) August 26, 2019
Below is additional information from the National Weather Service in Huntsville.

* AT 1051 PM CDT (SUNDAY EVENING), EMERGENCY MANAGEMENT REPORTED FLOODING IN CHEROKEE 
  TO BARTON AND IN THE FLORENCE TO MUSCLE SHOALS METRO AREA. 

* SOME LOCATIONS THAT WILL EXPERIENCE FLOODING INCLUDE...
  FLORENCE, MUSCLE SHOALS, SHEFFIELD, TUSCUMBIA, KILLEN, CHEROKEE,
  LEIGHTON, ST. FLORIAN, UNDERWOOD-PETERSVILLE AND WATERLOO.

PRECAUTIONARY/PREPAREDNESS ACTIONS...

TURN AROUND, DON'T DROWN WHEN ENCOUNTERING FLOODED ROADS. MOST FLOOD
DEATHS OCCUR IN VEHICLES! 

BE ESPECIALLY CAUTIOUS AT NIGHT WHEN IT IS HARDER TO RECOGNIZE THE
DANGERS OF FLOODING. TRAVEL IS STRONGLY DISCOURAGED!!!

A FLOOD WARNING MEANS THAT FLOODING IS IMMINENT OR OCCURRING. ALL
INTERESTED PARTIES SHOULD TAKE NECESSARY PRECAUTIONS IMMEDIATELY.